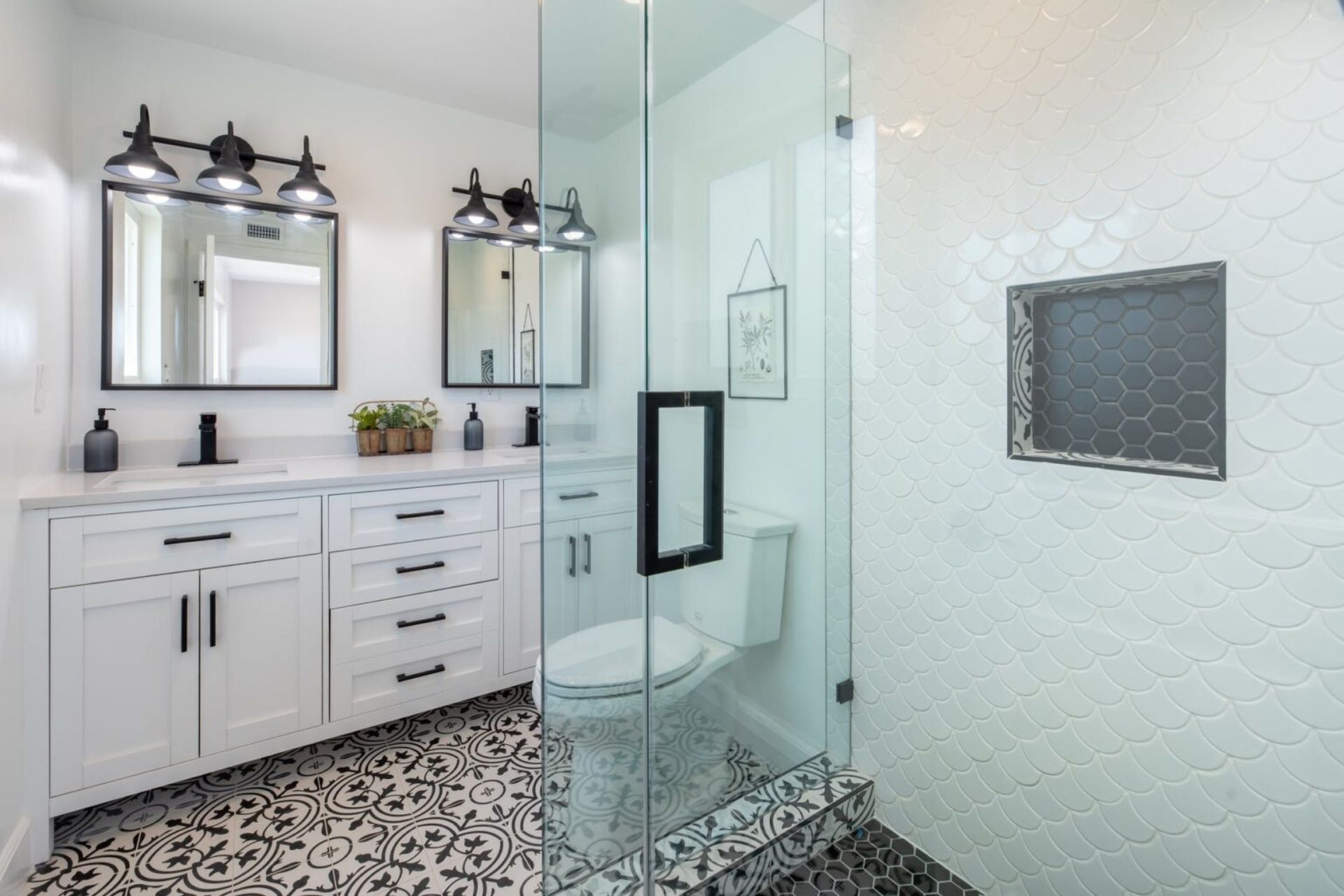 Bathroom Remodel Ideas and Tips For Your Next Remodel
Your bathroom is your cozy hideaway from the stresses of life. Over time, the bathroom can become dated and no longer provide the calm and warmth it did before. Take advantage of this opportunity and start pinning your dream bathroom. But before you get into it, read along our helpful bathroom remodel ideas.
Out of all the rooms, your bathroom should be the one that focuses most on functionality and sustainability. Apart from trying to hike the value of your home, invest in making your small bathroom an airy, bright, inviting space rather than a dark, dreary area. You also have to think about different aspects like countertops, tile, bathroom layout, etc. Let's have a look at bathroom remodel ideas that can help you achieve the bathroom of your dreams!
Plan Your Bathroom Remodel
Even before you call a bathroom remodeling company near you, you need to talk with everyone who will be using the space. Try to have a conversation about the fixtures and finishes you are supposed to use and how much of a budget you are willing to shell out.
As you plan for your budget, it is important to have a little extra because you never know if some unexpected problems can increase the cost later on. 
Here are some additional budget-planning tips:
Set aside at least 20 percent of your budget to cover up some unexpected costs and surprise expenses that you may likely encounter during your bathroom remodeling project.

Work with your family to set the right boundary for your budget and adhere to those boundaries. 
How to Design Your Bathroom?
Usually, many homes have at least one bathroom with a toilet, a sink, and a bathtub. Then, there are optional extras such as the shower, and in some cases, a bidet. An extra sink is a popular choice among most people, especially in households where more than one person often uses the bathroom. A master bathroom should consider the space required for two vanities, two sinks, and even two medicine cabinets. 
It is essential to look beyond the space of the bathroom. You need to think about the entire look of your house. What kind of layout would match best with the design? Does your preferred bathroom layout blend well with the rest of your home? Please keep in mind that not everything has to be perfectly matched to blend with your home. For instance, not every door handle has to be bronze. However, if you choose a contrasting design such as bronze with silver, it can be too distracting. 
If your bathroom is a part of your master bedroom, it is crucial to blend the design. Don't choose an abruptly bright color to distract from the theme of the main room. 
Alternatively, make it an extension of the room that flows well without taking away the bedroom's grandeur. Planning a practical space has everything to do with your lifestyle and how best you can use that space. Make sure to incorporate this during remodeling your bathroom. 
DIY or Pro Bathroom Remodel
A bathroom remodel needs sturdy hands to take on anything that's hiding underneath those walls. Apart from that, highly skilled tasks like plumbing, wiring, and tile work are labor-intensive jobs. And some essential and crucial ones that can't be managed by a novice DIYer. A bathroom is one of the most used and critical spaces. Do you think you can handle the time pressure and get it going within the desired time frame? 
Hiring a professional sounds like the better option now, right? But the most important thing to consider while hiring a professional is money. Is it worth spending all that $$$?
Instead, opt for subcontractors, wherein you divide the work between yourself and the contractor. Ask the contractor to do the groundwork, while you can take easy tasks like painting the bathroom. This will help get things done professionally, neatly, and without dealing with the pressure of doing everything by yourself. It will also split the budget, and you won't end up spending thousands. 
Fixed Budget Plan 
Finalizing a budget should be on top of your priority list. To plan the budget thoroughly, start with simple, low-cost ideas, and move onto bigger things. When planning on redoing your bathroom, it helps to plan. If you're not in a hurry, remodeling your bathroom in stages will help you manage your bathroom remodel costs.
Key things to keep in mind while setting aside those dollar bills are labor costs, paint, hardware, fixtures, storage solutions, or even a new curtain rod. If your budget is not thoroughly thought out and done carelessly, it may jeopardize the remodel. 
Typically, a fully functional bathroom can cost from $5000-$25000. One can even get the remodeling done for less if everything goes according to the desired budget plan. It's also necessary to add 10% for overage for hidden, mucky surprises. 
Fully Functional Bathroom Remodel Ideas
Sometimes re-doing a bathroom can be as simple as changing the color, hardware, vanity, shower, and fixtures. These factors are enough to give your old bathroom a new, improved look. 
Start by doing some research, but don't get carried away. Stick to your budget while researching your desired style. With multiple options available, you'll find more than what you were looking for while remodeling your bathroom. It will also decide the material that you choose for your bathroom, whether it's granite, quartz, or marble. 
Remember, your design should go hand in hand with the functionality of your bathroom. Adding a few elements like grab bars, rugs, and non-slip tiles can easily maintain your bathroom's functionality. Mobility-friendly bathrooms will also play an important role while reselling your home. They will drive up the value more than any other upgrade. These changes will save you time and money in the future while adding a new perspective to your bathroom remodel ideas. 
Features and Fixtures  
While it sounds like an excellent option to buy all your fixtures, it may be best to keep some as it is. Your tub, toilet, vanity can easily be kept as is or given some care to make them new. Refinishing the tub, toilet, and vanity will not only add bursts of elegance to your bathroom but also give it a wholly unique feel, with way less money. 
Changing a few key elements can create a huge impact. One of the most rewarding upgrades is getting a new light fixture. It will make your space appear more inviting and warm and an affordable way to update the bathroom too. Your bath tiles and fixtures should be resistant to mold and mildew; stick to waterproof sustainability features. 
Make sure your bathroom design is in sync with your home design. For instance, if you have a modern home design, stick to modern bathroom design as well. Make a list of fixtures that can easily do with refinishing touches and add those that need an upgrade. This way, you'll be able to bifurcate and allocate your bathroom remodel budget wisely. 
Add Flooring
Choosing the right flooring can be intimidating. It's such an essential aspect because it can be a significant investment and the one that you'll live with for many years, if not forever. Being the foundation of your design, not only it has to work with your style but be functional for your lifestyle. Look for flooring that is aesthetically beautiful, trendy, durable, and of course, affordable. 
Tiles are a great option to work with while remodeling. There's an unlimited number of styles, colors, and patterns you can get creative with, especially bathrooms. Opt for non-slip, non-porous, waterproof tiling that doesn't mold, and don't forget the grout. This will narrow your search and help you choose the right flooring. Choose between porcelain, ceramic, and natural stone tiles.
Whatever you choose, pick small square tiles over large ones. The larger the tile, the more wastage you'll have to clean up after. Always look for the discounted area; every store will have an end of inventory at discounted rates. This is the place where you'll get sensational deals, almost half-off too.
Cabinetry and Storage 
Your bathroom storage solution should be the last yet most important thing to keep in mind while remodeling your bathroom. A bathroom is usually the smallest room but an essential one. Play with your space a bit and settle on storage solutions that fit your family's needs. 
If you have toddlers, you might want to refrain from lower cabinets. Adding floating shelves on the higher side will allow you to function correctly. Shelves for baskets and accessories will also help keep things neat, organized, and easy to find. One thing you can do to store away your grooming or makeup products is to install storage box organizers, which can then be placed under the sink. 
Another way to use an otherwise useless wall space is to install shelves above the door. This provides a unique yet practical method of increasing the storage space you have available in your small bathroom. 
Whether you decide to hire a professional or put in a little DIY work, these bathrooms remodel ideas are all you need, more or less to consider, and understand; when starting a bathroom remodel. 
Design With the Future in Mind
For those who are thinking of their house going up for sale five years from now, it is important to ensure that the value of your property would increase over time. Therefore, you have to consider renovating your home for that purpose. 
On the other hand, if you are planning to live in your house for a couple of years, it is very important to ensure that the design of your bathroom is something you would love and fit with your style and preferences.