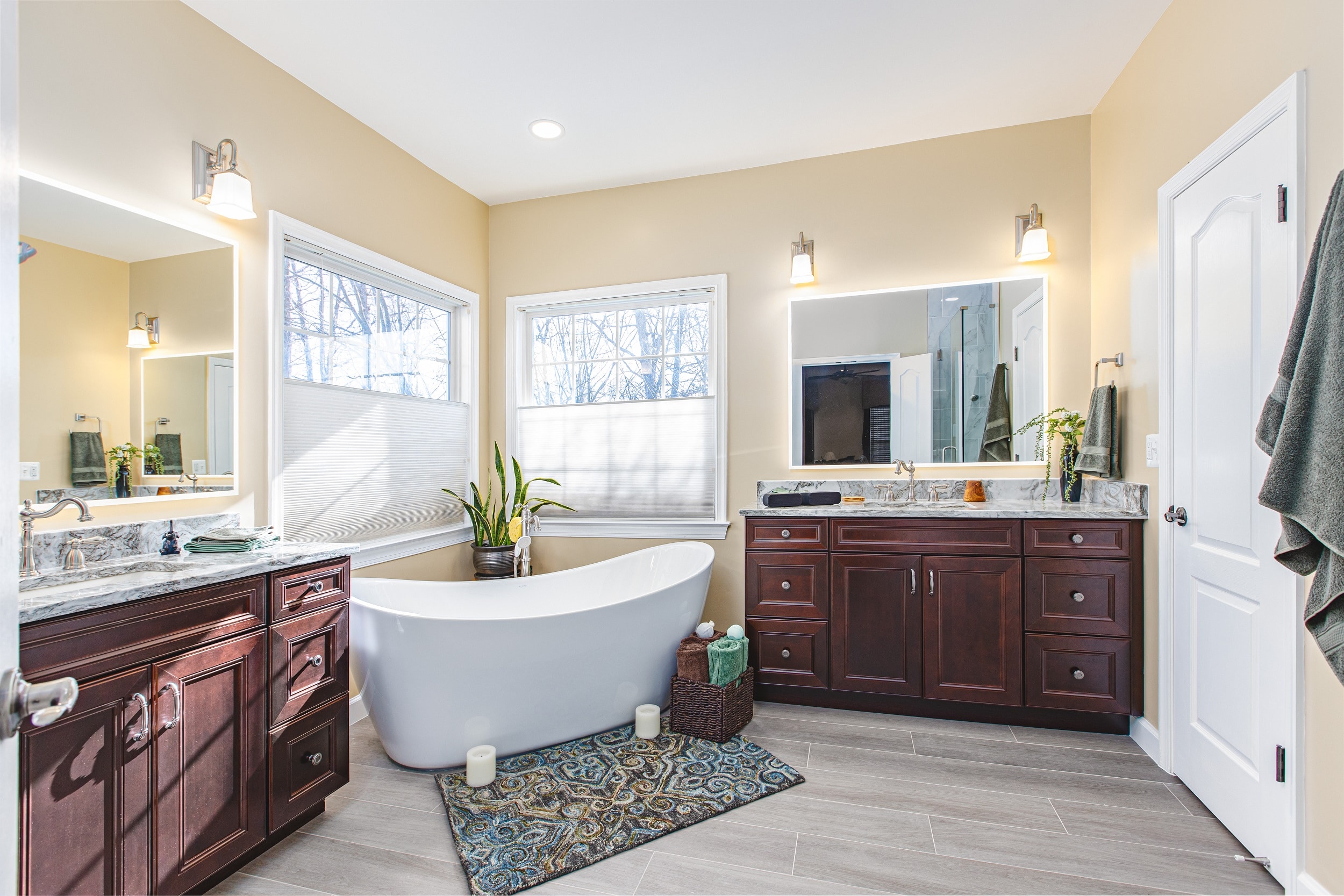 Bathroom Remodeling Process: Your Ultimate Guide to a Remodel
Often homeowners link the concept of a bathroom remodeling process to the overall home design. In many cases, you determine the plan with a visual idea. There are also various trends you can follow while remodeling your bathroom. 
With the presence of clean and minimal textures, it's easy to feel calm and happy. Usually, remodeling your bathroom is an overwhelming process if you don't plan it right. 
Although through our subconscious, we're drawn to bathrooms that meet our needs perfectly. You have to consider many factors that go into the bathroom remodeling process for a successful remodel.
Budgeting & Planning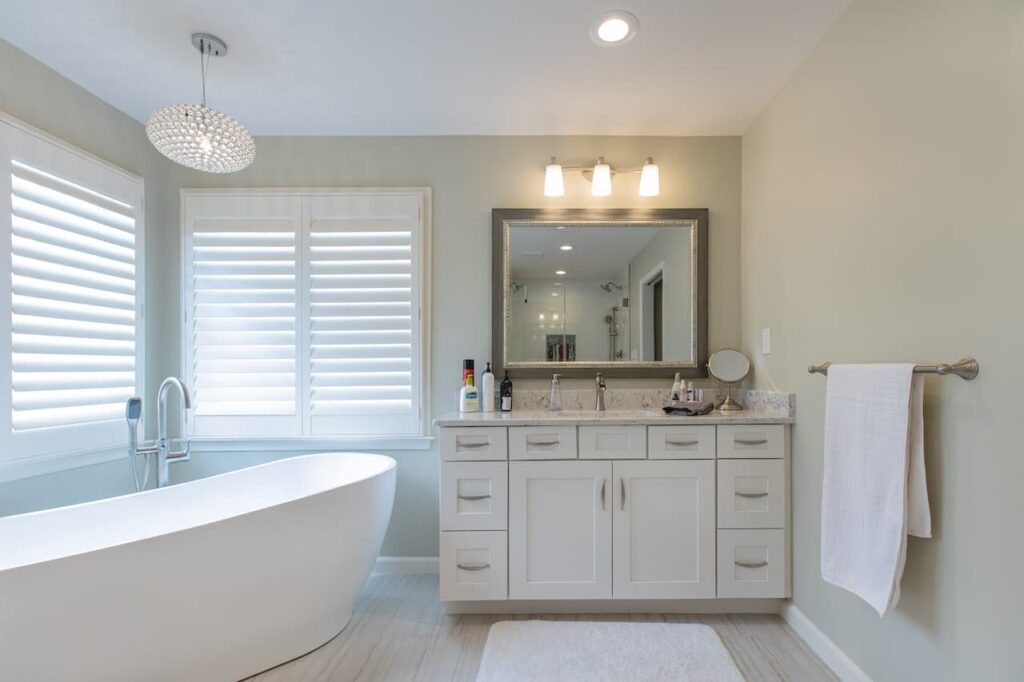 The very first step to your bathroom remodeling process is to create a budget. When you get the opportunity to transform your bathroom into the exact style you want, you are making an investment in your property and yourself. 
Home and bathroom remodeling processes can cost as much as you want, and without a set budget, the cost can spiral. The solution here is to research your local bathroom remodeling cost, set a realistic budget, and try to stick to it. 
On average, a low-level bathroom remodel costs $2,500. A mid-level bathroom renovation can go up to $9,500, and a high-end full-blown bathroom renovation can set you back by $22,000 and more. 
You can make this process much easier if you choose a remodeling contractor or designer. You can also opt for remodeling companies that offer a set price rather than estimates. 
A bathroom renovation can get expensive quickly due to labor costs and superior materials. Mainly, if you want a luxury bathroom, hiring highly-qualified contractors and subcontractors are in demand. 
If you want to upgrade your existing bathroom to higher-end materials, you will have to factor in the cost of everything from tile to a bathtub. 
To create your budget, here are a few things you will have to take into consideration: 
Are you looking to sell your home within a few years? Do you want to change your existing layout? 
Do you want to rewire the plumbing and electricals? What part of your new bathroom is essential? What can you afford to invest? 
Think about the Resale Value
Usually, you will have to keep the resale value in mind while remodeling your bathroom. Create your paradise without thinking too about selling the place. With these expectations, you will only complicate your bathroom remodeling process. 
On the contrary, if you want to stay a year or two, you might want to think twice before investing in any major remodeling project. 
That said, bathroom remodeling tends to recoup a healthy portion of their cost when you sell, mainly if all your bathrooms were excessively worn or outdated. 
The average bathroom remodel has a 70% return rate when sold. If you plan to stay for an extended period, it makes sense to invest in a remodel. One quick tip if you're trying to keep resale value in mind, take design and material choices that are likely to have a broad appeal and are not too specific to you. 
Consult a real estate professional or interior designer for guidance. Bathrooms come in a wide range of shapes, sizes, and layouts. 
Consider the Layout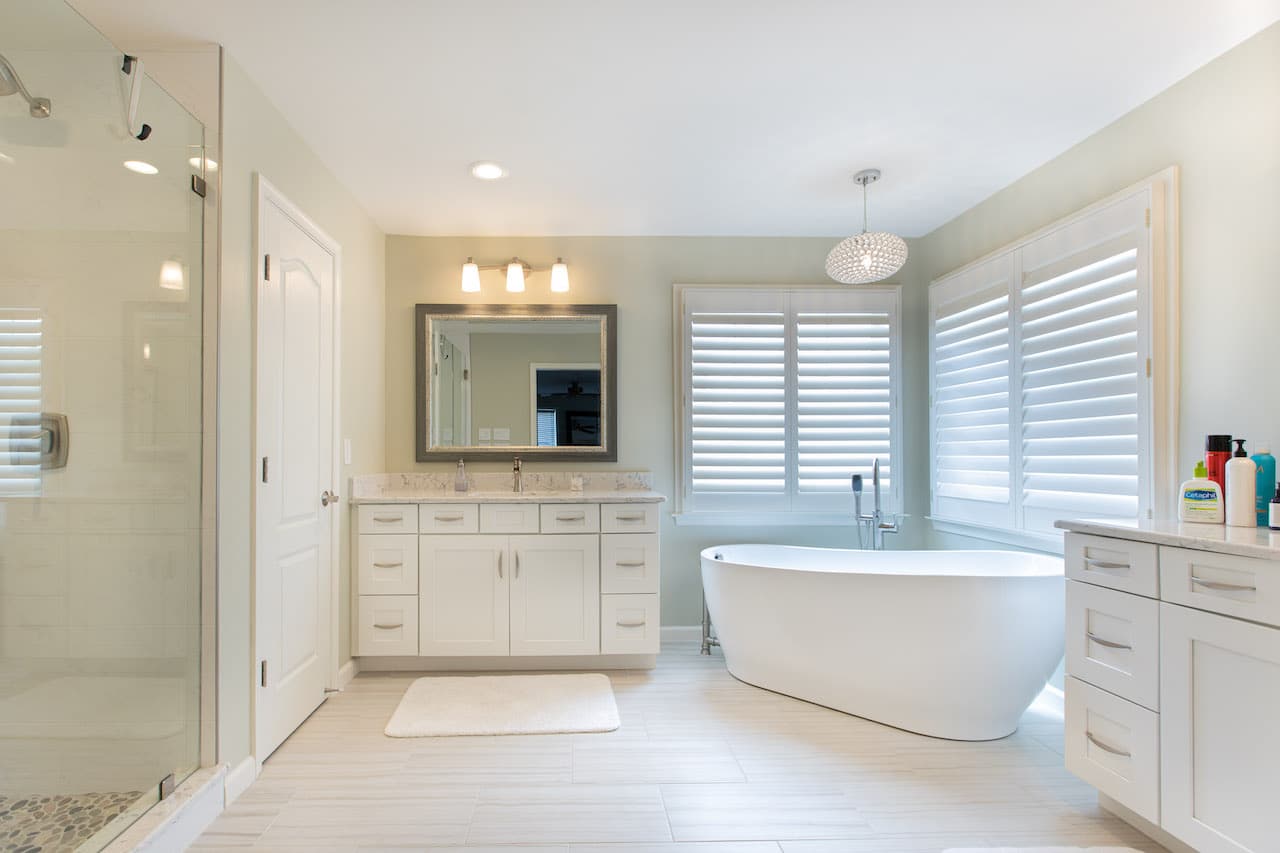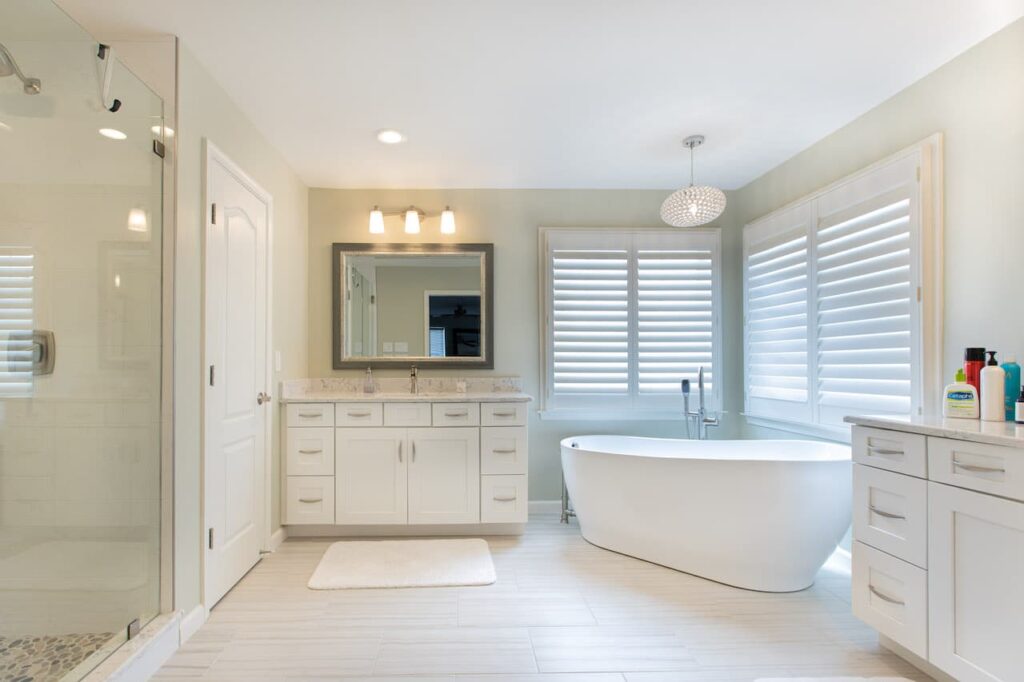 Chances are, you probably will not change the layout when you start your bathroom remodeling process. Furthermore, it's a notable thing to look at all your options before setting your idea in a storm.
 A professional designer can also help you see the possibilities that you might have missed. If you're remodeling your master suite, homeowners usually opt for a luxurious vibe, think skylights, a soaking tub, and a separate-themed shower. 
In most cases, you can add a master bathroom in your home if one doesn't already exist. By doing so, you can free up your zexisting standard bath for daily use and can eliminate the morning hassle. 
Remember, before you think about aesthetics, you have to nail down the layout. If you like the look of your fixtures, avoid rearranging the layout. It will drive the remodel cost of your bathroom even further. 
Focus on the Tiles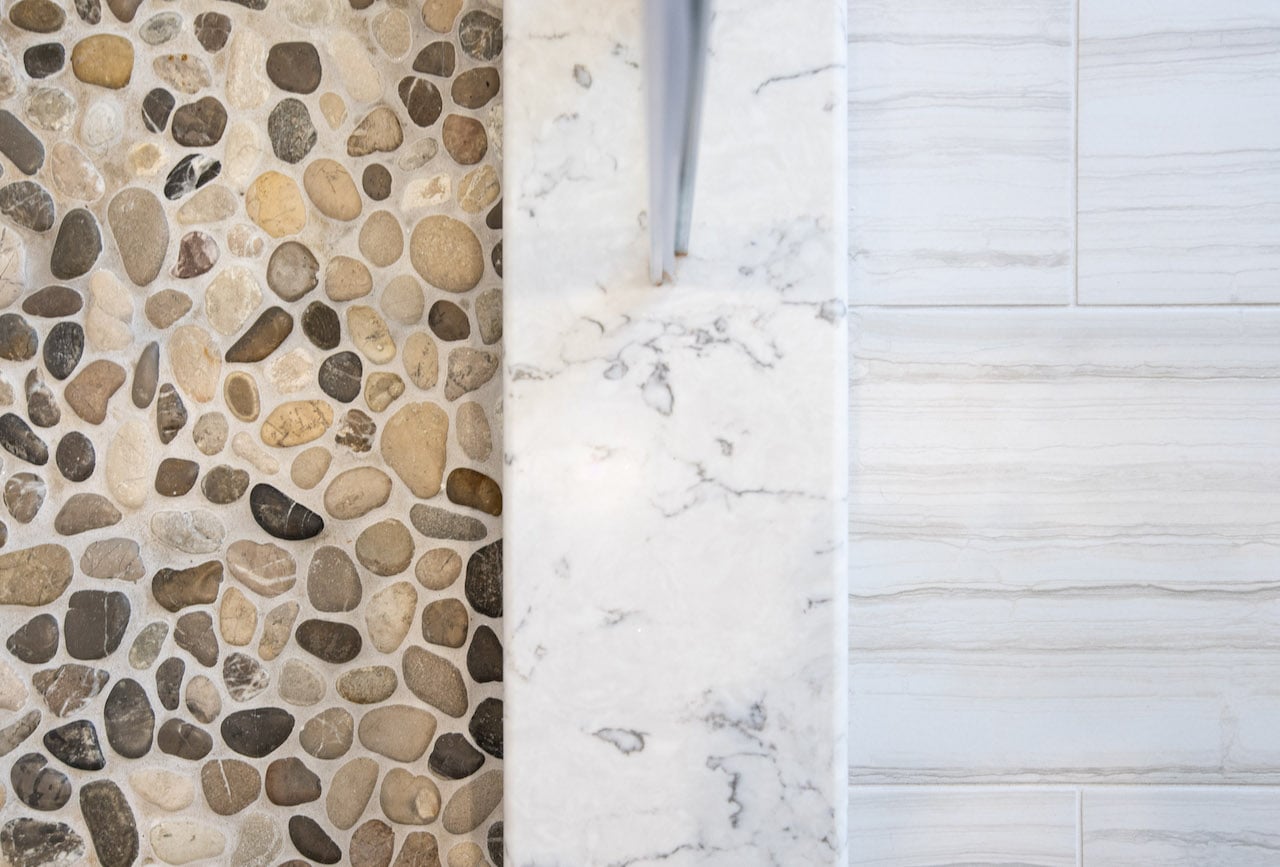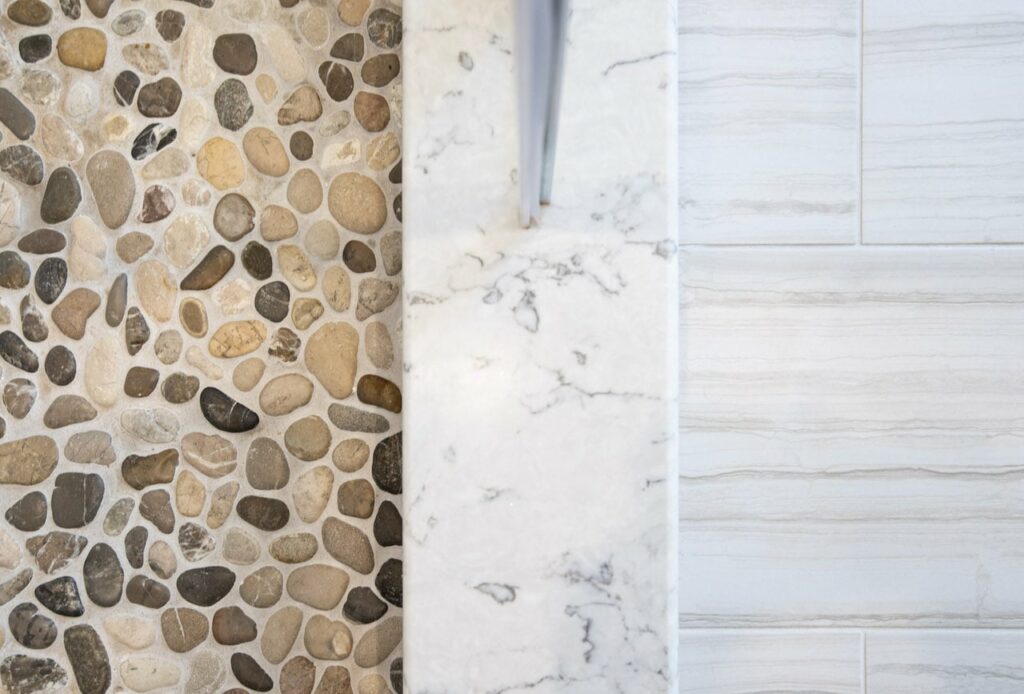 Picking out tiles for your bathroom remodeling process is not as simple as it looks anymore. Tiles are available in several shapes, colors, textures, and styles that can all seem overwhelming. 
A few years ago, homeowners chose tiles for their functional benefits, water-resistant, durability, and low-maintenance. Today, their aesthetic impact is just as critical as their function. 
It is why you'll find manufacturers with an expansive selection of unique styles. There are various design trends that you will have to look for while selecting tiles. 
The essential thing to look for is finishings, colors, shapes, and patterns. Ceramic tiles provide many options with slip-resistant features in wet and dry conditions. 
You can also consider mosaic tile for your bathroom flooring, as smaller tiles with more grout lines can cause more tractions. The beauty of tiles is they do not show watermarks easily, which makes them ideal for a bathroom. 
Choose the Design Elements 
Bathroom mirrors have many benefits. When you place them well, you can use them to create an illusion of space and bounce light around the room. 
You will also have to consider building storage. Shelves and alcoves are not only useful for displaying bottles, makeup and grooming products, plants, and other items but can add interest to the overall theme too. 
Plentiful storage is a suitable way of ensuring your surfaces and counters remain clutter-free. Laundry baskets can also be a great addition. 
Solid surfaces have been popular in the kitchen for some time now. Many trends begin in the kitchen; one is making its way into the bathroom to provide a hygienic, waterproof surface.
A bowl sink or under-mount sink can take your bathroom from ordinary to extraordinary. As for the bathroom, you can change the faucet and cabinet hardware for a fresh feel. 
Follow the Right Trends
A natural material that brings back the domain of nature in our home is wood. Primarily, you can use wood as wall and floor covering. Nowadays, you will see it on countertops and furniture too.
You can incorporate wood to give your bathroom an elegant combination of natural materials, which suits modern bathroom remodels. A wooden base with a stainless steel finish is also an innovative and classy combination. 
Last, include these features in your next bathroom remodeling process for a fun and functional upgrade that you'll love.