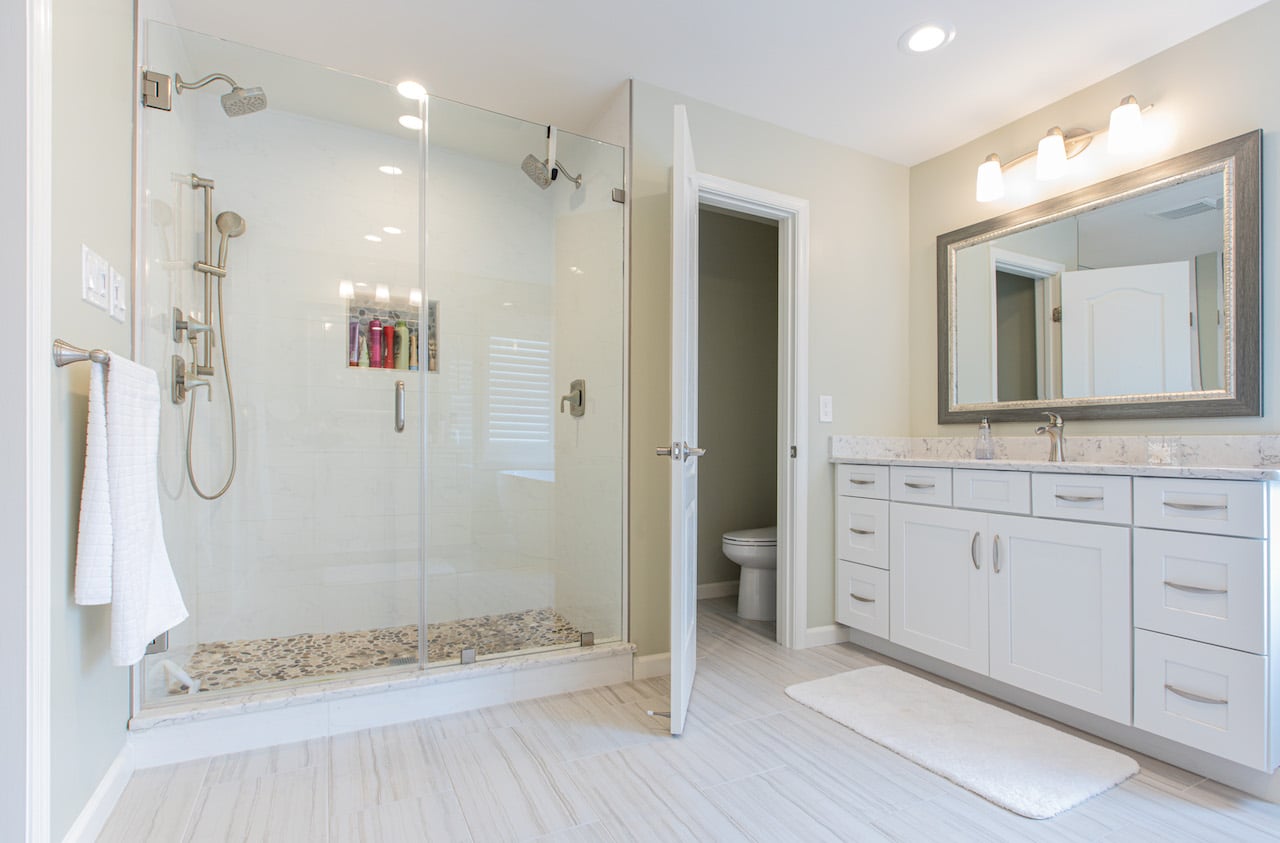 The Real Cost of Bathroom Remodeling in Chantilly Revealed by Experts
The average cost of bathroom remodeling in Chantilly is around $9,400. However, from small and medium-sized bathrooms, you can expect to spend between $3,500 and $7,000. In case you have a large master bathroom, then the cost of bathroom remodeling in Chantilly will be between $15,000 and $20,000. 
Further, the cost of remodeling a bathroom in Chantilly varies depending on the size of your space. If you want a complete overhaul, it will undoubtedly need a higher budget. On the other hand, if you wish to redo only a few elements like upgrading the shower or sink, it will cost you much less. 
Similarly, an average bathroom remodel costs between $80 to $300 per square foot, with standard bathroom fittings, materials, coatings, and tiles. However, if you opt for luxury bathroom fixtures, the costs can significantly shoot up. 
Additionally, it would be best to assign half of the total remodeling budget for the labor cost. For example, if $14000 is your estimate for a bathroom remodel, 50% of that is $7000 should be put aside for the labor cost, including demolition, flooring, painting, and installations.
Small Bathroom Remodel Costs
If you want to renovate an entire 40 square feet bathroom, you will need a budget between $3,000 and $15,000. The original layout of the bathroom is usually preserved in this kind of remodeling project.
Within the total cost, you can include removing the tiles, laying the flooring, painting, refinishing cabinets, and installing new sanitary fixtures. That roughly corresponds to $75 per square foot if you go with a DIY approach. Further, the small bathroom remodel costs would go around $350 per square foot if you get help from a bathroom remodeling contractor near you. 
Medium Sized Bathroom Remodel Costs
Completely remodeling a medium-sized bathroom in Chantilly of about 60 square feet can cost you anywhere between $8,000 to $ 20,000. 
At this budget, you can have a luxury bathroom with high-quality cabinets, a new sink and vanity, brand new flooring, and other good quality bathroom fixtures.
On a per square foot basis, the above cost of bathroom remodeling in Chantilly will come out to be between $135 to $300. On this scale of a bathroom remodel, you should not go for DIY. Instead, choose a licensed bathroom remodeler near you.
Master Bathroom Remodel Costs
The cost of bathroom remodeling in Chantilly is directly proportional to the size and the scale of the project. Therefore, for remodeling a master bathroom with all the bells and whistles, you can expect to spend around $30,000 to $50,000. 
In this range, you can get a high-end bathtub, glass-enclosed shower, electric floor heating, and custom cabinetry. On top of that, you can go with luxury bathroom flooring and coating material as well.
A Breakdown of the Costs for Bathroom Remodeling in Chantilly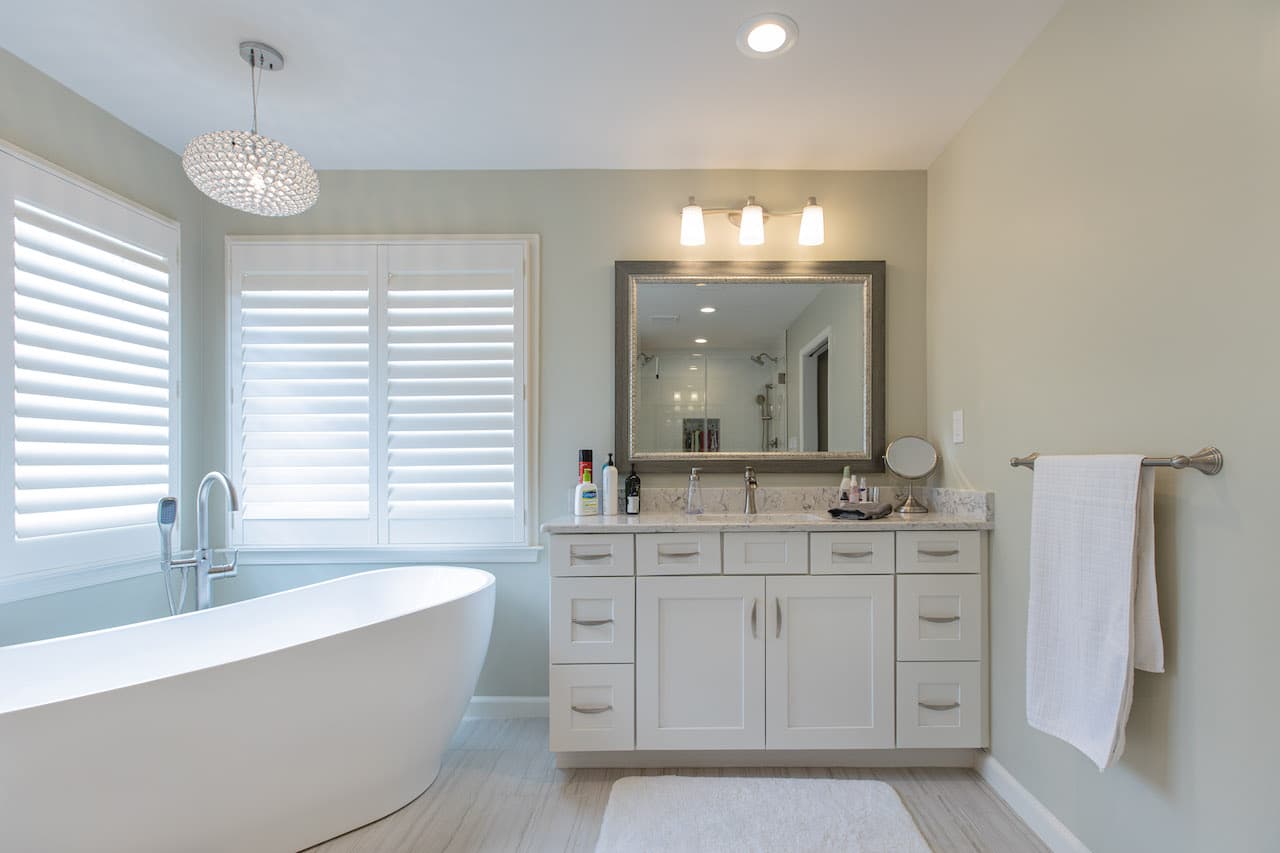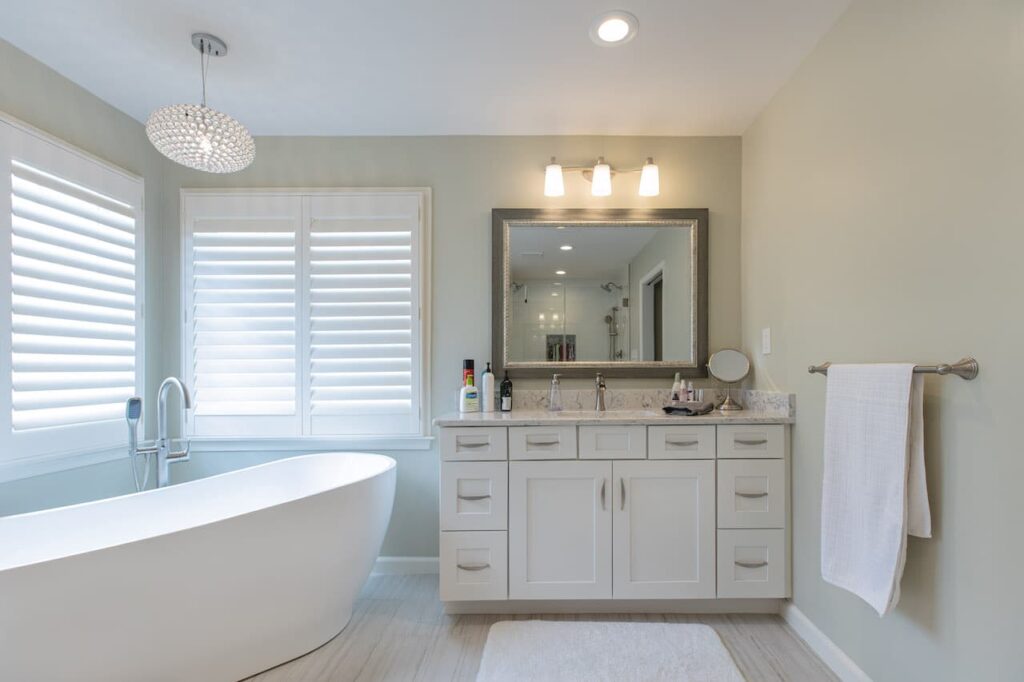 There are many elements that form the total structure of bathroom remodel costs. For instance, the cost of installing a low-end bathtub is between $400 and $1,500. Further, a mid-range bathtub can you anywhere between $2,600 to $4,000. Similarly, a higher-end variant would be between $6,000 and $8,200.
For bathroom cabinets, you can expect to spend between $1,200 and $3,500 if you wish to settle for lower-end models. On the other hand, a mid-range cabinet can cost you anywhere between $4,500 to $7,000. For a custom cabinet, you will be spending around $8,000 or more. 
Affordable bathroom countertops will cost you anywhere between $900 to $2,000. For mid-range countertops, expect to spend between $2,800 and $4,000. On the other hand, higher-priced countertops can cost anywhere between $5,000 and $7,000. 
Similarly, upgrading the bathroom flooring will cost you between $800 and $2,000. Mid-range flooring materials can run you between $2,500 and $3,500. Likewise, high-quality flooring will cost you $5000 and above.