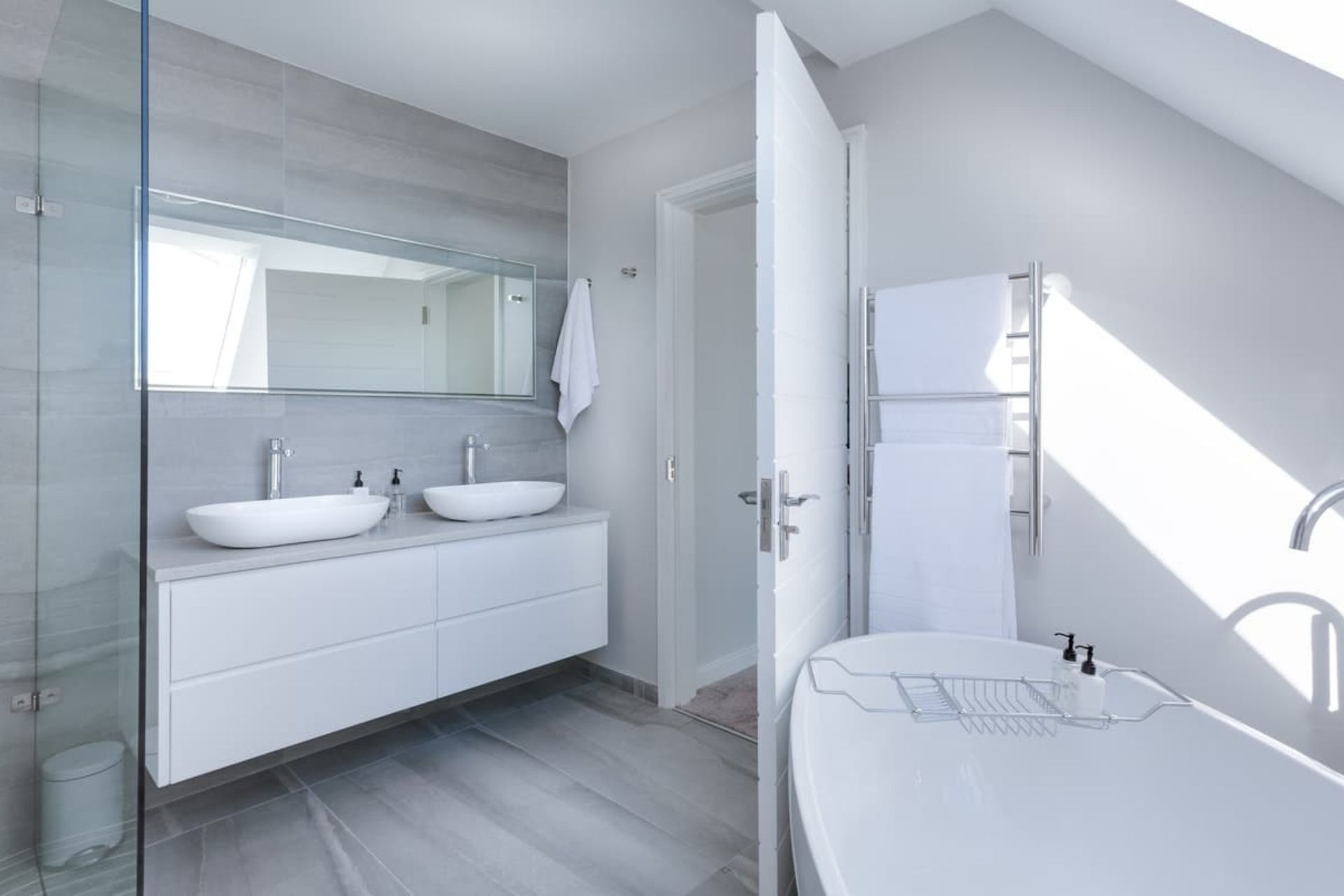 Understanding Different Aspects of Small Bathroom Remodel Costs
The national average for small bathroom remodel costs is around $6,500. However, it can range anywhere between $2,000 to $15,000 or more. You will be spending around $70 per square foot for a complete overhaul if you go for standard fixtures with DIY labor and up to $250 per square foot if you opt for upscale fixtures installed by a licensed contractor. 
Bathroom remodeling is a significant investment for homeowners, so it must be carefully planned. Homeowners should give proper thoughts to different aspects of bathroom remodeling before finalizing the project, and the bathroom remodel costs is among the top ones.
Further, having an initial idea of the various costs involved in bathroom remodeling will help you better calculate the overall budget. You can plan accordingly to avoid any bumps during the bathroom remodeling process.
What Does A Complete Small Bathroom Remodel Entail?
On average, the small bathroom remodel costs of a classic bathroom with a toilet, sink, shower, and other essential elements in standard quality are around $5,000.
There are, of course, no upper limits to the investment in your bathroom remodel. The materials such as marble or luxury elements such as whirlpools and saunas drive up the cost of bathroom remodeling to around $15000.
If we go by these figures, we can estimate the cost of around $80 per square foot of the low-end bathroom remodeling project. On the contrary, a high-end bathroom remodeling project can easily cost about $300 per square foot.
The higher the quality of the individual elements, the higher the total small bathroom remodel costs. Besides, the material expenditure can also vary. Hence there is no upper cap on the amount. and the price can go as high as your preferences and liking.
Bathroom Tile Costs
Tiling, besides the overhead small bathroom remodel costs of different varieties of tiles, as well as where you live. Tiles come in a wide variety of quality and therefore also have different price categories.
For instance, standard tiles cost around $20 per square foot and most of the tiles offered in novelty tiles shops are between $25 and $70 per square foot. With this estimate, most of the homeowners keep the tiling budget around $850 to $2500 based on their bathroom layout and size.
But if you want to get your bathroom tile right with luxurious options, the price can go up to $200 per square foot. Besides, you must always add 10 to 15 percent surplus in the calculated cost of the tiling to compensate for the wastage due to cutting.
Plumbing Cost 
A bulk of the small bathroom remodeling cost goes into the plumbing. The type and quality of the fixtures that go into your bathroom decide the plumbing cost.
It would be best to break down the total plumbing cost depending upon the fixtures you plan to install into your bathroom. Nevertheless, labor charges for plumbing and rerouting are usually around $50 to $150 per hour, depending on the intensity of the work. 
Cost of Toilet and Flushing System
A toilet is an essential element of a well-designed bathroom, both in terms of need and aesthetics. You have a wide variety of choices for this fixture, like one-piece or two-piece, pressure-assisted for flushing or water-saving, round-front or elongated. 
Prices vary with the model, quality, and size. A decent toilet and flushing system will cost you anywhere between $550 to $3000.
Sink Costs
As with all the elements of a bathroom, sinks also have a huge price difference. You can get the standard version for as low as $50, ceramic, no coating, 60 centimeters. The 411 on bathroom sinks is that the price takes an upward trajectory when you move to a fancier model.
A countertop sink will cost you upward of $100. Double sinks, on the other hand, are shockingly more expansive. You can expect them to be at least $500 for the lower end and about $1000 for higher-end models.
Shower Cost
For people on a budget, inexpensive and straightforward models for the shower are available in the market. You can get a classic shower tray for $75, a more expensive range could be anywhere between $200 to $800.
The more elegant zero threshold showers are more expensive and can cost you upfront $3000. In addition to the shower tray, you also have to consider the prices for the shower cubicle. For the simpler versions, the price can be $150, but for a more elegant taste, premium cubicles can price as high as $1,400.
Bathtub Cost
A simple 5 x 2.5 feet bathtub will cost you around $100. In comparison, the more trendy corner tubs and the free-standing tubs will cost you about $350, on average. You have to bear the additional cost in free-standing tubs, as the supply and wastewater pipes have to be laid, which drives the total price up.
Electricals Cost
Electricals cost includes the wiring, lighting, heaters, geyser, and exhaust fans. Material cost involving the electricals will be between $200 to $400 excluding labor.
The wiring cost will be calculated as per the length of the wire and the material of the core inside the wire. Since all these elements are indispensable to a bathroom setting, you must hire a bathroom remodeling contractor near you to ensure a safe bathroom remodeling process. 
Additional Material Cost 
While the above-stated small bathroom remodel costs constitute the major elements of a bathroom, these are not the only expenditure. Additional materials are required for the remodeling of a bathroom, which can significantly add to the overall price.
The electrician will need switches, sockets, and power lines that can easily cost around $500. The tiler works with tile adhesive, joint, and leveling compound, which will cost no less than $700, and the installer needs another $650 for cables, pipes, pipe clamps, and other small items.
Considering all the costs involved in a small bathroom remodeling, you should always put aside 15 to 20 percent extra capital to be in a comfortable zone.