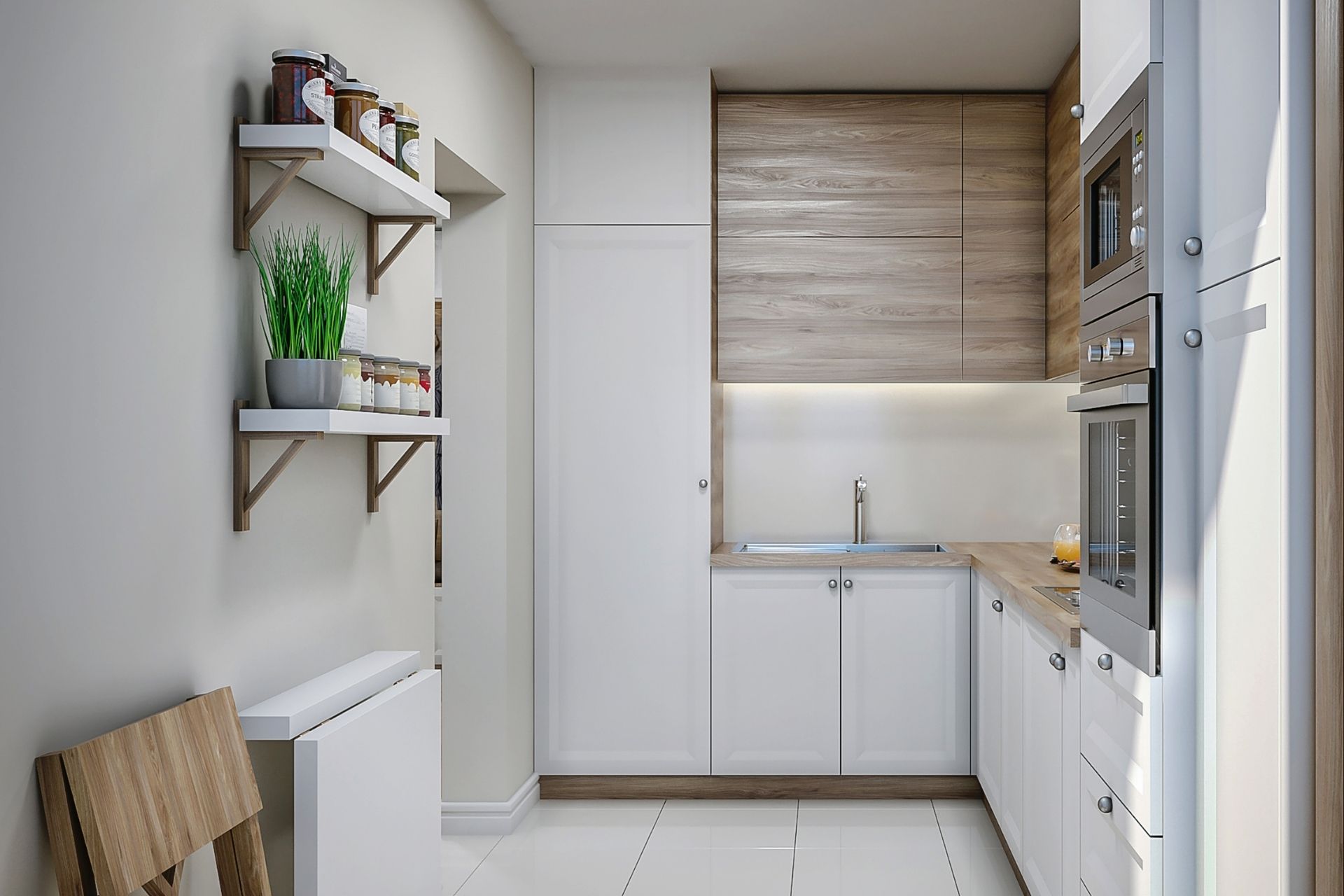 7 Small Kitchen Solutions That Actually Make a Difference to Your Life
There is no such thing as too much space in a kitchen. Regardless of the size of your kitchen, you are always going to fall short of space. However, things tend to get a little complicated when you're working with a small kitchen.
Naturally, you feel more cramped and it seems like there's not much you can do about it. However, never say never. There are some tips and tricks that you can use to maximize the efficiency of your small kitchen. To help you get started, here are some small kitchen solutions that make a difference and help you make the most out of your kitchen space.
Related: Do You Require a Permit for Your Kitchen Remodel?
Best Small Kitchen Solutions for Maximum Efficiency 
1. Let the Light in
When it comes to working with a small kitchen, natural light is your best friend. Natural light tends to 'expand' any space. If you have a small kitchen, try to maximize the influx of light. Don't cover any doors or windows with bulky drapes.
If you are remodeling your kitchen, you should pay extra attention to natural light and other light sources. Even if you do not have much natural light coming in, you can still make it happen. You can always knock down an interior wall or add ample artificial lights to ensure adequate lighting.
2. Use the Right Colors
With small kitchens, you have to be creative. It's not about having a bigger space but maximizing what you have. One neat trick that you can use is to work with the right colors.
It may sound weird, but the colors that you choose for your kitchen significantly impact how big or small it may look. For instance, light colors like white or mist grey make any room look bigger while darker colors tend to shrink a space and make it appear smaller than it is.
While choosing the color scheme for your kitchen, try sticking to light and bright colors like white or pastels.
3. Re-Think Storage
The focus on small kitchens is finding ways to 'open up' the kitchen space. What does 'opening up' mean anyway?
For the most part, it's about having the perception that the kitchen is bigger than it actually is. Which is where cabinets come in. Cabinets take up most of the real estate in any kitchen.  As bulky as they are, you can't just get rid of them.
However, there is a nifty solution: open shelves. Open shelves are the perfect storage solution to replace upper cabinetry. Not only are they good for storing your kitchen essentials but they also double up as decor.
Tip: Avoid storing fragile items on open shelves. Stick to robust and durable kitchen items for these shelves.
4. Use the Walls
Many kitchens suffer from what is known as 'dead wall space.' If you look around your kitchen right now, you'll see at least one wall that's unused aka 'dead wall.' Now, how can you use this wall(s)?
Believe it or not, there are quite a few ways to use this or any dead space in your kitchen. Let's start with a classic pegboard (Yes, like Julia Child's Kitchen). Why do you need a pegboard?
Simply put, pots and pans take up way too much space in cabinets. A pegboard will solve that problem and then some. It's a great way to add some character in your kitchen and solve a massive storage problem.
A pegboard is just one of the solutions. There are so many ways to use and utilize the dead wall space. If you are remodeling your kitchen, you should put some thought into figuring out which options work best for you and your kitchen space.
5. Use the Corners
If you have a small kitchen, you need to make the most of every single inch. However, it's easier said than done. Just like every kitchen, small kitchens come with their own set of challenges.
One such challenge is the struggle to use awkward corners. Corners are the bane of every homeowner who wants to make the most out of their kitchen space. However, this challenge lies an opportunity.
Instead of 'cutting' corners by installing a standard cupboard, opt for some clever storage options. Lazy Suzan, Pull-out Drawers, etc. are best suited for small kitchen corners.
6. Get Rid of Clutter
Have you ever walked into your kitchen and been completely overwhelmed by all the things you own? A big reason as to why your kitchen might seem small is because there are way too many things outside.
Now, we don't want you to Marie-Kondo everything. However, a little organization goes a long way. An easy way to start is to ensure you do not overload the kitchen surface with appliances.
Keep your appliances hidden in cabinets and closets. How many times do you actually use your (expensive) stand mixer? It's best to keep bulky appliances tucked away until you actually need them.
A clean kitchen looks larger than a messy one. This is why it's best to keep your countertops clutter-free and clean as much as possible.
7. Opt for Mirrors
Reflective surfaces are an easy fix to what seems like a rather complicated issue. Mirrors and glass surfaces are an easy way to make your small kitchen seem larger. How do you incorporate mirrors into your kitchen?
For instance, you can look at mirrored-tile backsplash as an option for your kitchen. If that's not your style, glass-front cabinets are a more subtle alternative and they get the job done too.
What Should You Do for Your Small Kitchen?
Working with a small kitchen comes with its own set of challenges. However, small changes can have the biggest impact when it comes to designing your kitchen. At the end of the day, you know what works best for your needs.
These tips and small kitchen solutions are there to help you make the best out of your small kitchen and help you make small but effective changes to your kitchen, but ultimately, you should make choices based on your preferences.
Also Read: Do You Require a Permit for Your Kitchen Remodel?