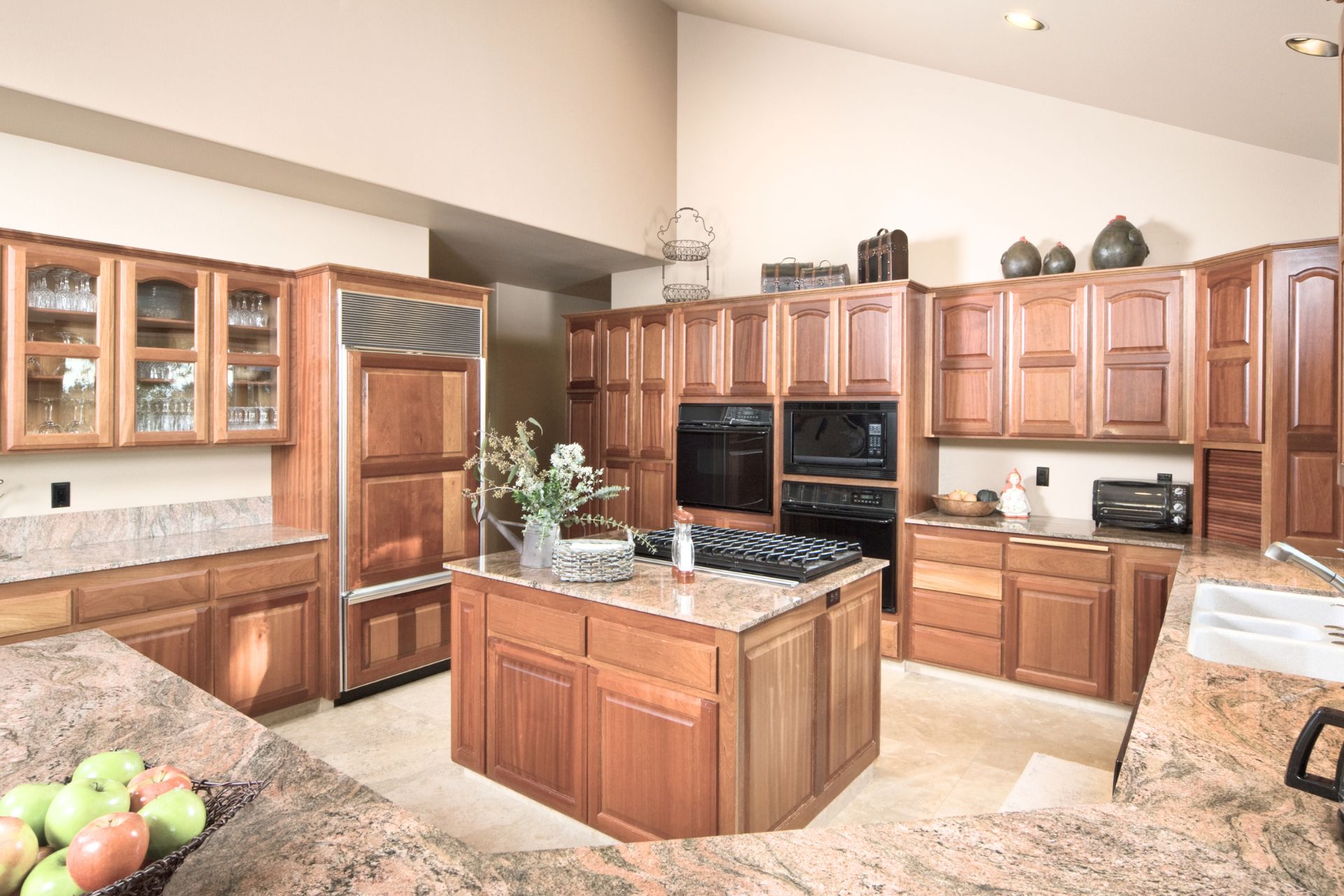 Maple Kitchen Cabinets: A Timeless Choice for Your Dream Kitchen
Maple kitchen cabinets are a fantastic material to work with. For those looking to build beautiful and sturdy kitchen cabinets that will last for generations, maple wood is the way to go. Classified as a hardwood alongside oak, maple is actually even stronger! If you're undergoing a kitchen remodel, opting for maple wood is a good way to make cabinets that last. If you're not yet convinced, this article will take you through the ins and outs of maple kitchen cabinets. Ranging from the wood's pros and cons, as well as price and design suggestions, you'll soon realize just how great maple kitchen cabinets are. 
Pros and Cons of Maple Kitchen Cabinets
Using maple wood for your kitchen cabinets is a considerable investment. As with anything you put into your home, make an informed decision to see if it works for you. 
Pros
Durability
As mentioned earlier, maple is an extremely durable hardwood. It's very resistant to dents and scratches. This makes maple wood an excellent choice for people looking to build up a home they plan to spend the rest of their life in. If you need something that stands the test of time, maple wood is a good bet. 
Versatility
Although maple wood in itself is inherently beautiful, you can veer off from its distinct light hue should you wish to create a more customized look. You can use a selection of paints, stains, and finishes to color maple wood cabinets that suit your desired look. 
Consistent Grain Pattern
Maple wood features a fine uniform texture. The grain can range from straight to wavy and even rippled light lines. This works wonderfully for those wanting to build a very cohesive and natural-looking kitchen.  
Timeless Appeal
Maple kitchen cabinets are visually and physically timeless. Thanks to their light hue which can easily be customized, you get the timeless appeal of natural hardwood in your kitchen. The wood itself is also highly resistant to decay, even with minimal maintenance. This gives you stylish cabinets that last for years and years. 
Affordable and Sustainable
For anyone that wants the sturdiness of hardwoods like cherry or walnut yet doesn't want to pay the price, maple is a great alternative. It works for homeowners with small and large budgets alike. Maple wood is on the more affordable end and is sustainable. 
It Ages Beautifully
As with all hardwoods, maple wood ages beautifully. With time, oxygen, and UV light exposure, maple cabinets start off from their light hue and turn into rich honey gold. 
Cons
Limited Natural Color Variation
Maple wood has natural light and bright uniform color. This may not be appealing to homeowners looking for wood that has darker or richer hues. Although maple wood can be stained or painted accordingly, know that achieving a darker look using maple wood will cost more time, effort, and money. 
Not as Durable as Some Other Hardwoods
As touched on earlier, maple is classified as a hardwood. However, it falls shorter on the durability scale than other hardwoods like oak, mahogany, and cherry. Although these woods 'hardness levels are close, maple wood is ranked to be more susceptible to elemental damage than other hardwoods. 
Cost
Just because maple wood is marked as 'affordable', it doesn't mean it's cheap. You still pay the price of hardwood material. This makes it not as accessible to homeowners on a budget looking for long-lasting cabinet materials. 
Comparing the Cost of Maple Cabinets
While maple is not the least expensive wood for cabinets, it offers a great balance between quality and cost. Its durability ensures you'll get the most bang for your buck, as your cabinets will last for years to come. In comparison to other hardwoods like cherry or walnut, maple is a more affordable option, making it a great choice for homeowners on a budget who still want a high-quality, long-lasting product.
To provide a better understanding of the average cost of maple kitchen cabinets, let's break it down further:
Stock Maple Cabinets
These pre-fabricated cabinets are the most affordable option, with prices ranging from $80 to $200 per linear foot. Stock cabinets come in standard sizes and finishes, which limits customization but allows for quick installation.
Semi-Custom Maple Cabinets
Offering more customization options than stock cabinets, semi-custom cabinets can be tailored to your specific needs and preferences. The average cost for semi-custom maple cabinets ranges from $150 to $400 per linear foot, depending on the selected features and finishes.
Custom Maple Cabinets
For those who desire a truly unique kitchen, custom maple cabinets provide the highest level of personalization. Prices for custom cabinets can vary greatly, starting around $500 per linear foot and going up depending on the design, materials, and level of craftsmanship involved. Custom cabinets may take longer to produce and install, but they can be tailored to fit your kitchen's exact dimensions and style.
Keep in mind that these costs are just a general guideline and can vary depending on factors such as your location, cabinet manufacturer, and installation costs.
Complementing Your Maple Kitchen Cabinets with Color
One of the things that make maple kitchen cabinets a great design choice is their inherent light hue. It acts as the perfect backdrop color to make other visual elements in your kitchen shine. For instance, a clear finish showing off the light hue of maple kitchen cabinets works beautifully with modern and minimalist-looking kitchens. Work with the natural and airy feel with stone gray countertops, lush indoor plants, and gold accents. 
Alternatively, you can stain maple cabinets. Opt for a rich coffee tone to go with white marble countertops and a white backsplash to create a beautiful kitchen with balanced light and deep elements. 
As you can see, maple wood is easy to work with as it stains easily. So whether you want to use its naturally light color, or change it up, it opens up plenty of design options for you to achieve your desired kitchen aesthetic. 
Best Paint Colors, Stains, Styles, and Finishes for Maple Kitchen Cabinets
Choosing the perfect paint color, stain, style, and finish for your maple kitchen cabinets is essential in creating a cohesive and visually appealing space. Let's explore the best options for each of these factors to help you make the best decision for your kitchen remodel.
Paint Colors
If you want the durability of hardwood cabinets without the look of hardwood, use maple. The smoothness of maple ensures it takes paint well, allowing you to paint virtually any color you want. Try a creamy beige color to pair with gray countertops and brass hardware for a natural and industrial look. Alternatively, paint them a deep blue and pair them with gold hardware and white countertops for the coveted blue-and-white kitchen look. 
Regardless of your choice of paint color, the main idea is to choose one that works with your countertops, backsplash, flooring, and accessories. 
Stains
Maple wood takes stains beautifully, allowing you to customize the appearance of your cabinets. The stain can enhance the natural beauty of maple's fine grain pattern, giving your cabinets a rich and warm appearance. Light stains like honey or golden oak work well in traditional or rustic settings, while darker stains like espresso or walnut are perfect for modern or contemporary kitchens.
Styles
When it comes to maple kitchen cabinets, you can choose from a variety of styles. Whether you want a natural, contemporary, eclectic, rustic, or industrial-style kitchen, maple cabinet panels can fit in. Select the cut, panel design, and hardware accordingly to help you achieve your desired look. 
For instance, if you want a rustic-looking kitchen, opt for maple cabinet panels that have been stained to a slightly reddish hue. Choose recessed panels and black hardware to support that rustic aesthetic. 
Finishes
Like paint, maple wood takes well to finishes. You can opt for a stained finish to alter its light color. On the other hand, you can choose a clear finish and let its natural color come through. Finishes act as both a way to change the color and to act as a protective top layer. Along with the color, or lack of it, you can choose from a glossy or matte finish to complete the look. 
Common Questions about Maple Cabinets
Can I paint my maple kitchen cabinets?
Yes, maple takes paint very well, allowing you to change the color of your cabinets if desired. Be sure to properly prepare the surface before painting to ensure a smooth, professional-looking finish.
How do I maintain and clean my maple kitchen cabinets?
Maple kitchen cabinets aren't just durable, they're actually quite low maintenance. A damp microfiber cloth is enough to keep it shining and from gathering dust. For any stains, food splatter, or grease, wipe it down with some mild soap or an all-purpose cleaner. Assuming that the wood is treated and finished properly, maple cabinets are easy to keep clean. 
Are maple kitchen cabinets eco-friendly?
Maple is a sustainable and renewable resource, making it an eco-friendly choice for kitchen cabinets. Many cabinet makers also use low-VOC finishes and adhesives, further reducing the environmental impact of your cabinets.
Conclusion
Maple kitchen cabinets are a stylish and practical choice for any kitchen remodel. Their durability, affordability, and versatility in terms of color and finish options make them an investment worth considering. With their timeless beauty, you can be confident that your maple cabinets will serve you well for years to come.