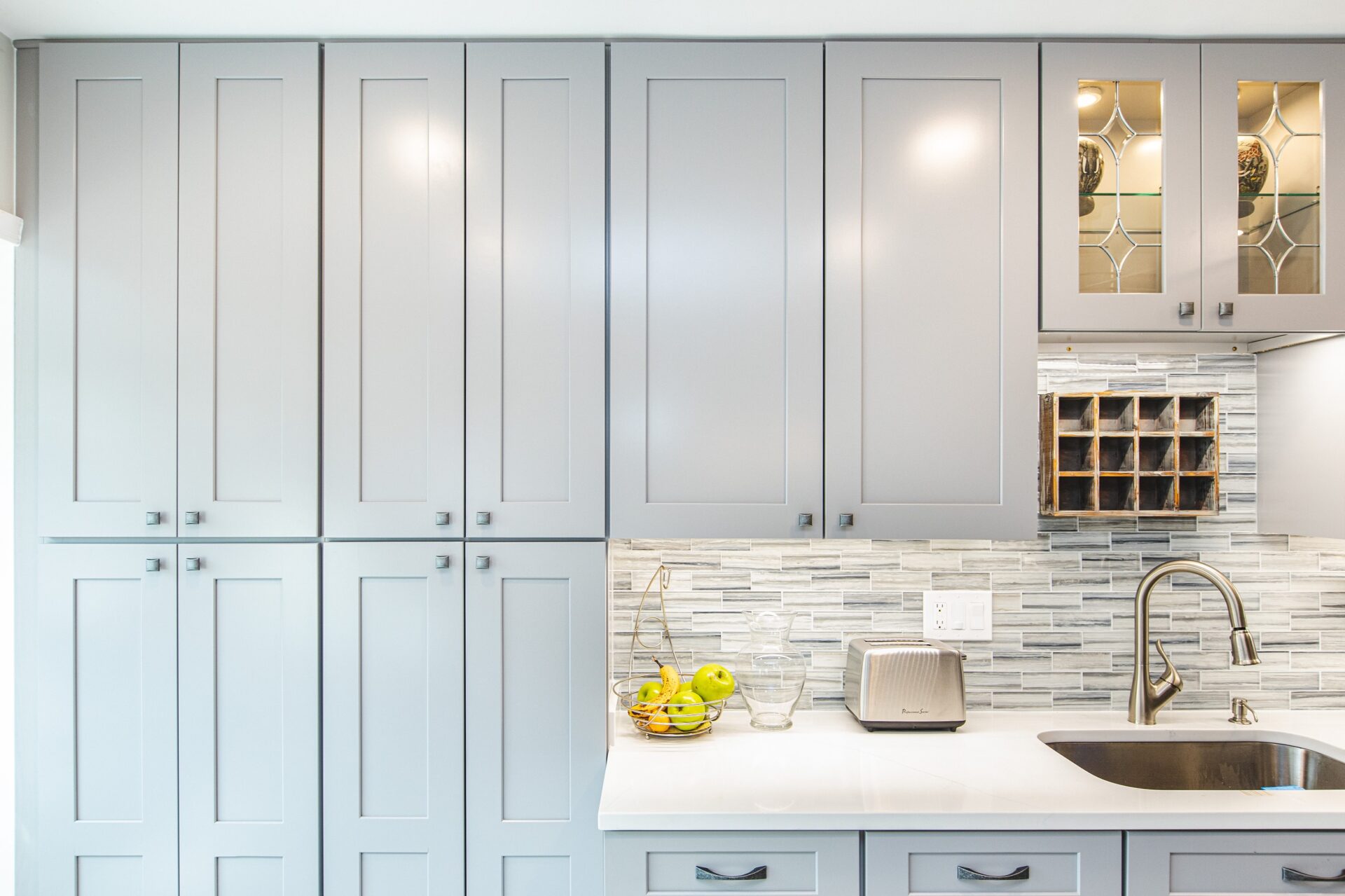 Shaker Kitchen Cabinets: Timeless Design for the Modern Home
Ready to give your kitchen a fresh, stylish, and functional makeover with shaker kitchen cabinets?
Let us introduce the shaker kitchen cabinets. These minimalist yet versatile cabinets have won the hearts of DIY enthusiasts, home remodelers, interior designers, and homeowners for good reason.
Come along on this captivating journey as we uncover the history, unique features, and endless personalization possibilities of shaker kitchen cabinets.
At the end, you'll be inspired and equipped to transform your kitchen into a space that truly reflects your personality and style!
The History of Shaker Kitchen Cabinets
The history of shaker kitchen cabinets dates back to the 18th century, during the establishment of the Shaker religious movement in the US. Renowned for their simple and functional design, Shaker furniture has become a symbol of quality craftsmanship. These cabinets showcase:
Clean lines: The uncluttered, minimalist design of shaker cabinets creates a timeless and adaptable look.
Square edges: The cabinets' square edges contribute to their overall simplicity and elegance.
Emphasis on practicality: Shaker cabinets prioritize functionality, focusing on efficient storage and organization solutions.
Key Features of Shaker Kitchen Cabinets
Shaker kitchen cabinets showcase a variety of key features. Shaker style is favorite among homeowners looking for a clean, minimalist design. Their flat panel doors are a distinctive attribute, contributing to the cabinets' streamlined look.
Consistent with the minimalist theme, shaker cabinets usually feature straightforward and unembellished hardware.
Typical hardware choices for shaker cabinets include:
Round knobs: These classic, subtle knobs effortlessly complement the shaker style.

Bar pulls: For a modern twist, bar pulls provide a contemporary touch while keeping things simple.
Additionally, shaker cabinets are usually made from sturdy hardwoods like maple, cherry, and oak, guaranteeing lasting quality and durability.
Customizing Your Shaker Kitchen Cabinets
One of the best aspects of shaker kitchen cabinets is their adaptability. Allowing you to create a truly personalized space that reflects your style and complements your home's décor.
Here are some ways to customize your shaker cabinets and make them uniquely yours:
Paint or stain
Some color options to consider are:
Classic white: A timeless option that creates a spacious feel in your kitchen.
Trendy gray: A color that works well with different design styles, whether modern or traditional.
Bold hues: Stand out with eye-catching colors such as navy blue or emerald green.
Rich wood stains: Highlight the natural charm of hardwood cabinets with cozy walnut or deep cherry finishes.
Mix and match
Combine shaker cabinets with other design elements to create a visually interesting kitchen that suits your tastes. Some ideas include:
Open shelving: Integrate open shelves for a modern, airy look and easy access to frequently used items.

Glass-front cabinets: Showcase your fine china or decorative glassware behind glass doors, adding depth and visual interest to your space.
Additional features
Incorporate practical accessories and features that enhance the functionality of your shaker kitchen cabinets, such as:
Pull-out drawers: Opt for deep, full-extension drawers to maximize storage and make it easy to access pots, pans, and other kitchen essentials.

Spice racks: Keep your spices organized and within reach with built-in spice racks or pull-out spice storage solutions.

Under-cabinet lighting: Illuminate your workspace and highlight your backsplash with the addition of under-cabinet lighting. This also adds ambiance to your kitchen.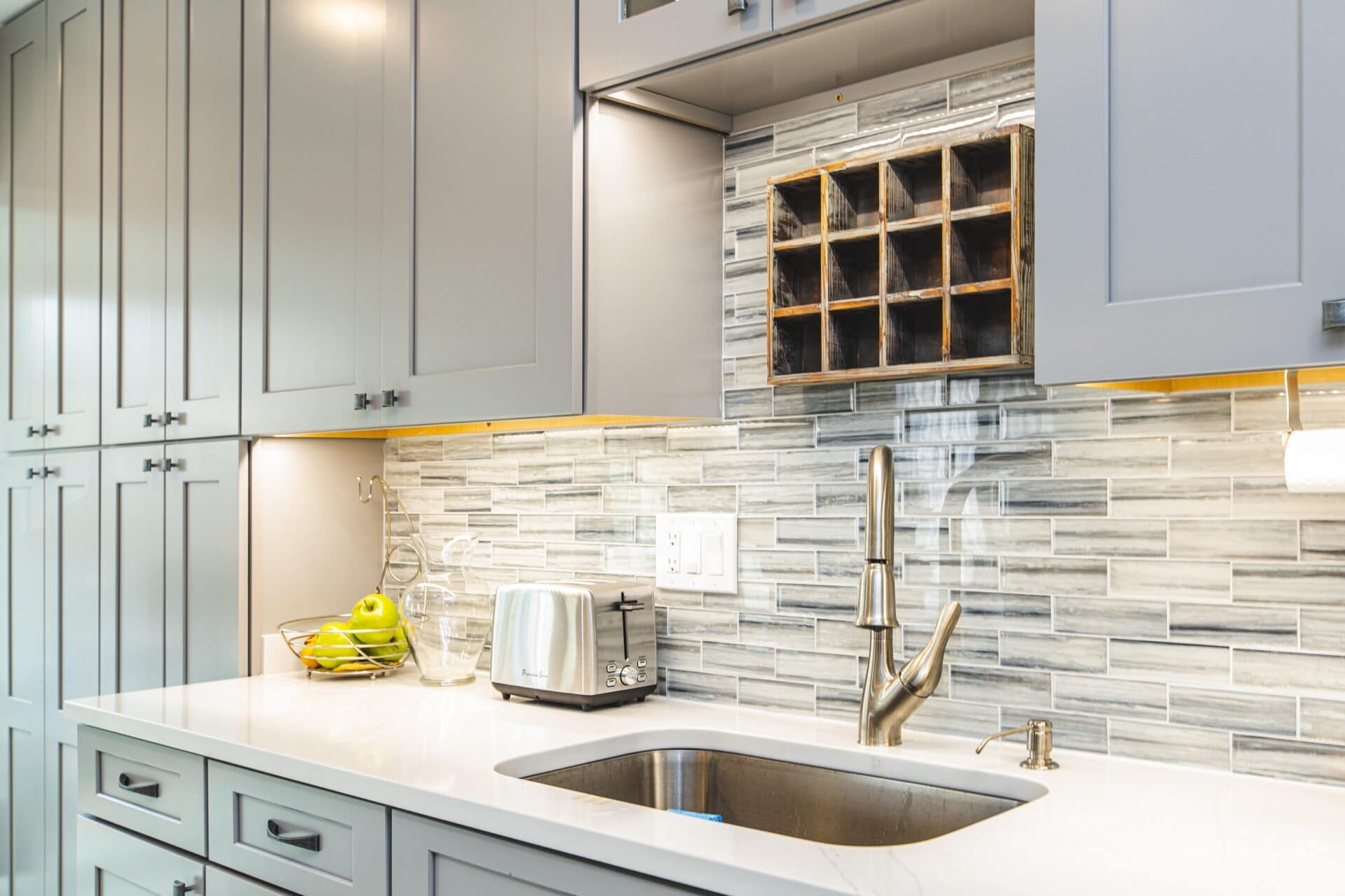 Shaker Kitchen Cabinets in Different Styles
Traditional
Classic shaker kitchen cabinets easily fit into a traditional-style kitchen with their simple design and warm wood tones. To achieve this look, choose shaker cabinets in a rich wood stain like cherry or mahogany, and pair them with traditional elements such as crown molding, decorative hardware, and classic lighting. Using natural materials like stone countertops and hardwood floors will add to the cozy, traditional atmosphere in your kitchen.
Modern
They can also be tailored to suit a modern, contemporary kitchen. For a sleek, updated look, choose shaker cabinets in a neutral color like white, gray, or black. Pair them with minimalist hardware, such as slim bar pulls or hidden touch-latch mechanisms, to maintain clean lines and an uncluttered appearance. Complement the cabinets with cutting-edge appliances, streamlined countertops, and modern light fixtures to complete the contemporary aesthetic. Incorporating materials like stainless steel, glass, and glossy finishes will add a touch of sophistication and polish to your modern shaker kitchen.
Farmhouse
Farmhouse-style kitchens exude a rustic, cozy charm, and shaker cabinets can beautifully complement this aesthetic. Painted shaker cabinets in colors like pale gray, soft blue, or distressed white can contribute to the farmhouse ambiance, while vintage-inspired hardware, such as cup pulls or bin handles, adds character and authenticity. To further enhance the farmhouse feel, incorporate a large apron-front sink, open shelving, and a mix of natural materials like reclaimed wood, brick, or stone. Accessorizing with antique or vintage-inspired items, like wooden utensils or enamelware, will complete the look and make your farmhouse-style kitchen a warm and inviting space.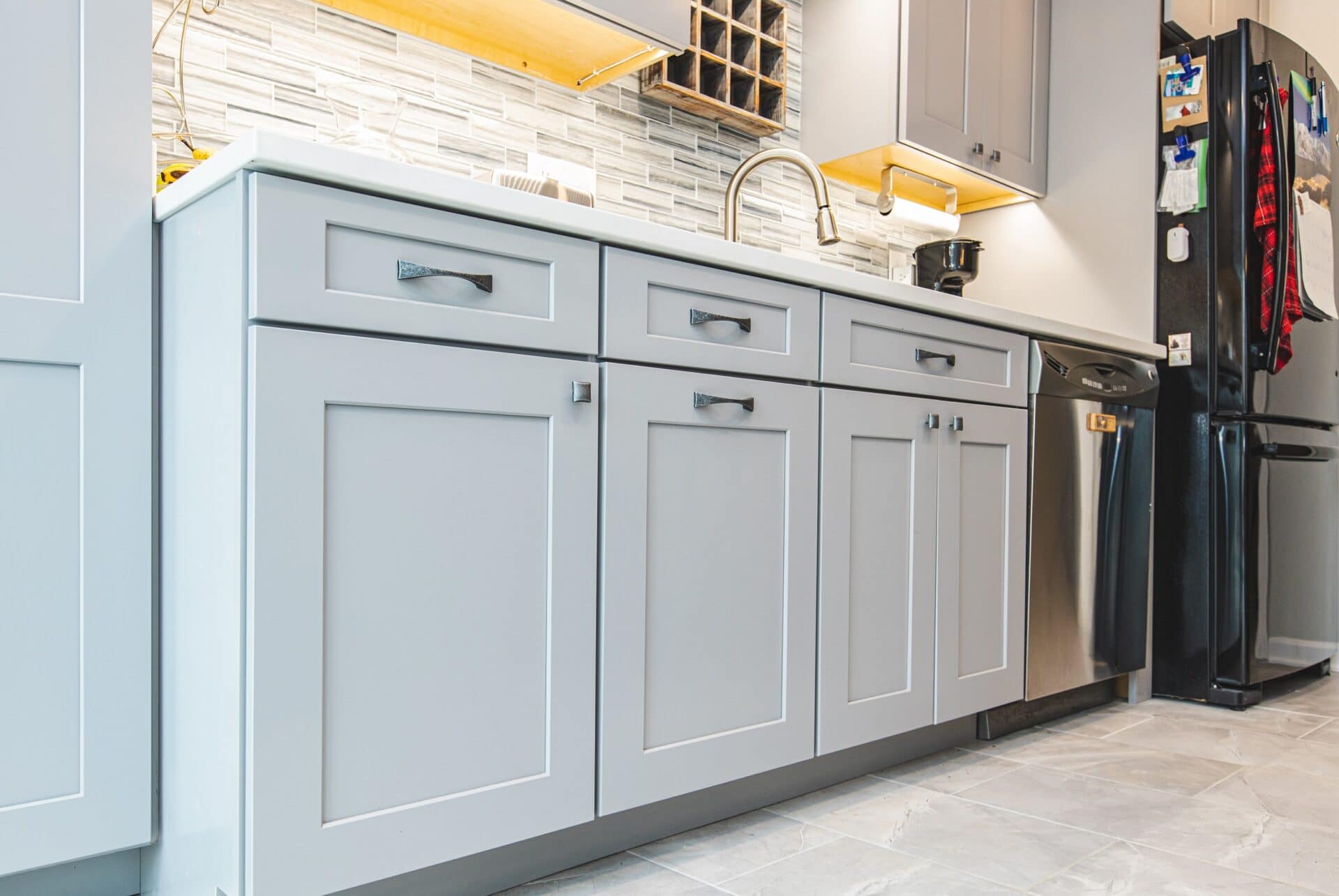 Frequently Asked Questions
What are shaker style kitchen cabinets?
Shaker style kitchen cabinets are characterized by their simplicity, functionality, and timeless design. They originated from the Shaker religious movement in the 18th century, known for its high-quality craftsmanship and minimalist aesthetic. Key features of shaker cabinets include flat panel doors, clean lines, square edges, and straightforward hardware. These cabinets are often made from durable hardwoods such as maple, cherry, and oak, ensuring longevity and resistance to wear.
Are shaker kitchen cabinets expensive?
A: The cost of shaker cabinets can vary widely depending on factors such as materials, level of customization, and the manufacturer. On the lower end, stock or semi-custom shaker cabinets made from more affordable materials like MDF or plywood can be quite budget-friendly. On the higher end, fully custom shaker cabinets made from premium hardwoods like cherry or walnut can be more expensive. However, when considering their timeless design, durability, and the potential for increased home resale value, shaker cabinets are generally considered a cost-effective investment for homeowners.
Can I install shaker kitchen cabinets myself? 
 Installing shaker kitchen cabinets yourself can be a rewarding and cost-effective endeavor if you have some basic DIY skills, the right tools, and a willingness to learn. Before embarking on a DIY installation, it's essential to research and gather all the necessary tools and materials, such as a level, drill, measuring tape, and cabinet hardware. There are numerous tutorials and resources available online, including videos, articles, and forums, that can provide step-by-step guidance and expert advice to help you successfully install your shaker cabinets. However, if you're not confident in your abilities or prefer to save time, hiring a professional installer is always an option.
Are Shaker cabinets high end?
Shaker cabinets can be both high-end and budget-friendly, depending on the materials used, the level of customization, and the manufacturer. While they are often associated with quality craftsmanship and durability, their minimalist design can also make them a more affordable option compared to more ornate cabinet styles. The cost of shaker cabinets can vary widely, so it's essential to research different manufacturers and materials to find the right balance between quality and affordability.
What is the difference between Shaker and Classic Cabinets?  
The primary difference between Shaker and classic cabinets lies in their design and aesthetic. Shaker cabinets have a minimalist, functional design with flat panel doors, clean lines, and simple hardware. In contrast, classic cabinets often feature raised panel doors, decorative moldings, and more intricate hardware, giving them a more ornate and traditional appearance. Shaker cabinets tend to be more versatile and can fit into various kitchen styles, while classic cabinets are typically better suited for traditional or formal kitchens.
Are Shaker Cabinets still in style?
Yes, Shaker cabinets continue to be in style due to their timeless design and functionality. Their simplicity and clean lines make them suitable for both modern and traditional kitchens. Shaker's durability and quality craftsmanship ensure they remain a popular choice among homeowners and remodeling experts.
Why are shaker cabinets more expensive? 
Shaker cabinets may be more expensive than some other cabinet styles due to the materials used and the craftsmanship. They are often made from high-quality hardwoods like maple, cherry, and oak, which can drive up the price.
Shaker cabinets have a reputation for excellent craftsmanship, which may also contribute to a higher cost. However, it's essential to note that the price of shaker cabinets can vary widely, and more affordable options are available.
Are shaker- style cabinets cheaper?
Shaker-style cabinets can be more affordable than some other cabinet styles due to their minimalist design. Their flat panel doors, clean lines often require fewer materials and less labor to produce, making them cost-effective. However, the price of shaker cabinets vary depending on factors such as materials, customization, and manufacturer.
Shaker kitchen cabinets bring a classic design that can effortlessly elevate various kitchen styles, ranging from traditional to contemporary. Boasting clean lines, robust materials, and a range of customization options, these cabinets serve as a practical and elegant base for your kitchen makeover.