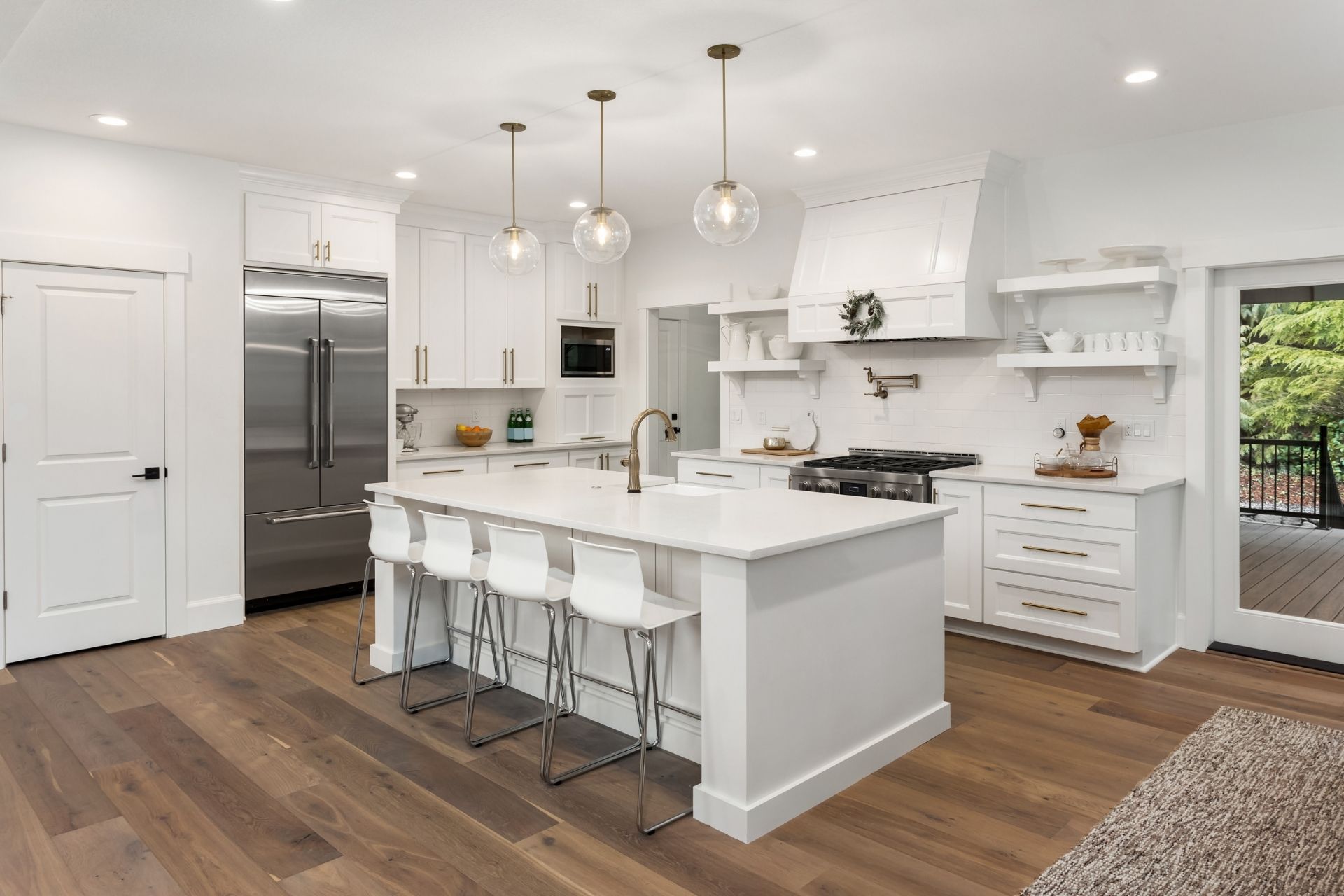 How to Remodel Kitchen Under 20K
Is that even possible to remodel your kitchen under 20K?
The short answer is, yes!
A kitchen renovation can be a costly endeavor, but it doesn't have to break the bank.
With careful planning and smart choices, you can achieve a stunning kitchen remodel for under $20,000.
From layout changes to appliance upgrades, we'll guide you through the process to ensure that your new kitchen is both functional and stylish.
Plan and Prioritize 
Set a Realistic Budget
Start by determining how much you can afford to spend on your kitchen remodel.
Costs can vary significantly depending on the scope of the project, the materials used, and labor costs. It's crucial to set a budget upfront and stick to it throughout the process.
Prioritize Your Needs and Wants
Make a list of your must-haves and your nice-to-haves.
Focus on the essentials first, like replacing outdated appliances or fixing a dysfunctional layout. Later, you can allocate any remaining funds to extras, like a stylish backsplash or a trendy light fixture.
Focus on Layout and Functionality to Get Kitchen Under 20K
Keep the Existing Layout
A significant portion of your budget can quickly disappear if you decide to change the layout of your kitchen drastically. Retaining the existing layout not only saves money, but it also minimizes the complexity of the project. Instead of moving plumbing and electrical fixtures, focus on optimizing the current configuration for maximum efficiency and flow.
Opt for Open Shelving
Cabinets can be expensive, so consider using open shelving for a more affordable alternative. Open shelves provide ample storage while creating an airy, modern feel. They also allow you to showcase your favorite dishes and glassware, adding personality to your space.
Choose Cost-effective Materials for a Kitchen Under 20K
Laminate Countertops
While granite and quartz are popular countertop choices, they can quickly eat up a significant portion of your budget. Laminate countertops have come a long way in recent years, offering a wide range of colors and patterns that mimic natural stone. They're durable, easy to maintain, and budget-friendly.
Affordable Flooring Options
Tile and hardwood flooring can be pricey, so consider alternatives like vinyl or laminate flooring. These options are not only budget-friendly but also easy to install and maintain. They come in various styles, allowing you to achieve the look of more expensive materials without the high price tag.
DIY Where Possible to Remodel Your Kitchen Under 20K
Save on Labor Costs
Labor costs can account for a significant portion of your remodeling budget, so consider tackling some tasks yourself to save money. Painting, installing hardware, and even laying flooring are all relatively simple DIY projects that can reduce your overall expenses.
Shop Secondhand
You can save a considerable amount of money by shopping for used appliances, fixtures, and materials. Check out local thrift stores, Habitat for Humanity ReStores, or online marketplaces like Craigslist and Facebook Marketplace for great deals on gently used items.
Upgrade Appliances Strategically
Energy-efficient Appliances
Invest in energy-efficient appliances that will save you money in the long run.
Look for ENERGY STAR certified products to reduce your utility bills.
You might also be eligible for tax credits or rebates for purchasing energy-efficient appliances.
Prioritize Key Appliances
With a limited budget, prioritize the appliances that will have the most significant impact on your kitchen's functionality.
Focus on upgrading your range or refrigerator.
You can save money by choosing mid-range models with fewer bells and whistles, but still offer reliable performance and energy efficiency.
Add Personal Touches
Paint for a Fresh Look
A fresh coat of paint can work wonders in transforming the look and feel of your kitchen.
Choose a neutral color for a timeless look, or opt for a bold hue to make a statement. Painting is an affordable and simple DIY project that can make a significant impact on your space.
Update Hardware and Fixtures
Swapping out outdated hardware and fixtures can instantly elevate your kitchen's appearance. Look for budget-friendly options in a finish that complements your existing appliances and cabinetry. New cabinet pulls, a stylish faucet, or modern lighting can all make a big difference without costing a fortune.
Be Smart with Your Timeline
Schedule Wisely
Planning your remodel during the off-peak season can result in lower prices for materials and labor.
Contractors may be more likely to offer discounts or be more flexible with their schedules during slower periods.
Additionally, appliances and materials often go on sale during specific times of the year, so take advantage of these savings when possible.
Take Your Time
Rushing through a remodel can lead to costly mistakes and added stress.
Give yourself ample time to research, plan, and execute your project. This approach allows you to make more informed decisions, hunt for deals, and tackle DIY projects at a comfortable pace.
Maximize Storage and Organization
Utilize Vertical Space
If you have a smaller kitchen, incorporate vertical storage solutions to make the most of your space. Install hooks or a magnetic strip on the wall for utensils, pots, and pans. Add floating shelves or a pot rack to store and display items that are used frequently.
Optimize Cabinet Organization
Invest in budget-friendly organizers to maximize storage and improve accessibility. Use shelf risers, drawer dividers, and pull-out trays for an efficient space. These solutions can help you make the most of your existing cabinetry without the need for a costly replacement.
Consider Alternative Lighting Solutions
Add Under-Cabinet Lighting
Under-cabinet lighting is an affordable way to enhance the functionality and ambiance of a kitchen. LED strip lights or puck lights can be easily mounted underneath your cabinets for additional task lighting and create a warm atmosphere.
This simple upgrade can make a significant impact on the overall feel of your space.
Opt for Pendant Lighting
Pendant lights can add style to your kitchen while providing focused lighting over key areas, like island or dining table.
Look for budget-friendly pendant lights that match the aesthetic and consider installing a dimmer switch for added versatility.
Enhance Your Backsplash
Choose Affordable Tile Options
A beautiful backsplash can be a focal point in your kitchen, but it doesn't have to cost a fortune.
Look for affordable options, such as ceramic or subway tiles, which can make impact without breaking the bank.
You can even consider using peel-and-stick tiles for an easy, budget-friendly DIY project.
Get Creative with Materials
Explore alternative materials for a unique and cost-effective backsplash.
Options like beadboard, reclaimed wood, or even a painted stencil design can add visual interest and character to your space without the expense of traditional tile.
A budget-friendly kitchen remodel is achievable with careful planning, creative solutions, and a focus on functionality. By considering alternative materials, maximizing storage and organization, and enhancing lighting and backsplash options, you can create a stunning kitchen for under $20,000. With these tips and strategies, you'll be well on your way to transforming your space into a beautiful and functional kitchen that you'll love for years to come.