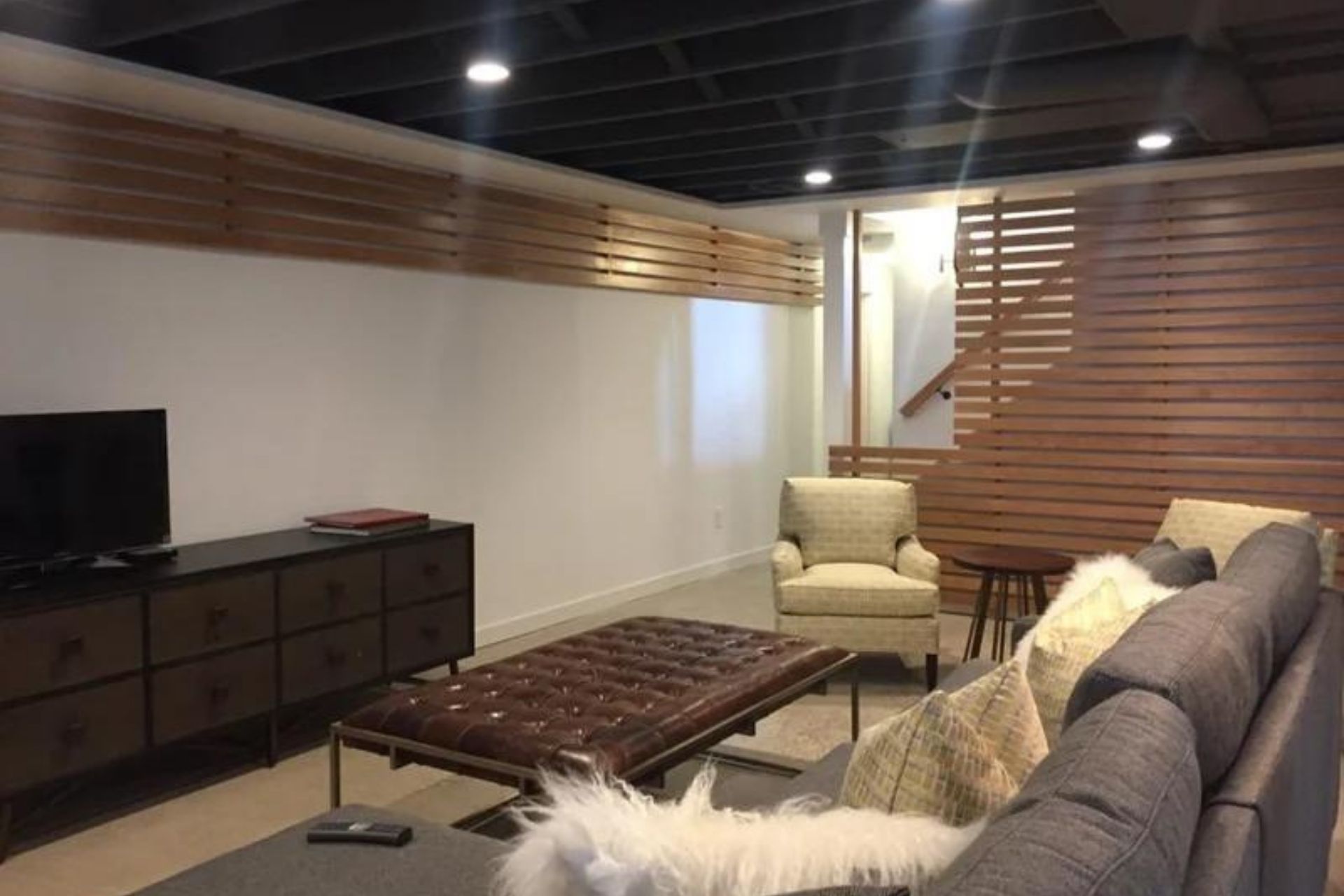 Black Basement Ceiling: A Complete Guide
A black basement ceiling is a simple way to polish up and tie together the look of any basement. The neutrality of black makes it an excellent backdrop for other design elements such as lighting and fixtures. If you're wondering whether or not you should paint your basement ceiling black, know that it's easy to work with and is an easy way to make a basement look finished.
This article walks you through what you need to know before going for a black basement ceiling.
Advantages of a Black Basement Ceiling
Simple Access to Electricals and Plumbing
Choosing a black basement ceiling eliminates the difficulties of accessing electrical and plumbing systems. A black paint finish keeps these systems available, making it effortless to perform maintenance tasks when necessary. Additionally, easy access allows for prompt identification of any required maintenance work.
Creates a Clean and Unified Look
Black makes a great backdrop, highlighting any color beautifully. While using black, it's important to add lighter shades like white to keep the space from feeling too dark. Pairing a black basement ceiling with white and other colors creates a balanced and neat look.
A black ceiling is also very versatile. It fits many styles, whether modern, industrial, classic, or minimalist. Plus, a black ceiling hides any ceiling flaws, making it even more attractive.
Maximizes Ceiling Height
Painting your basement ceiling black also maximizes the available headroom, which is especially beneficial in older homes with low ceilings. Unlike drywall or drop ceilings, which consume valuable headspace, painting your ceiling preserves the room's height without compromising aesthetics.
Cost-Effective
A black-painted basement ceiling is an affordable alternative to purchasing and installing a drop ceiling or drywall. Whether you opt for a DIY approach or hire a professional, you can expect to pay no more than $6 per square foot.
Disadvantages of a Black Basement Ceiling
Lack of Soundproofing
Depending on your basement's purpose, soundproofing may or may not be crucial. For instance, a guest room or band practice space would require soundproofing, while a second living room or family room might not. A black basement ceiling doesn't offer any soundproofing, so consider this factor when making your decision.
Can Make the Ceiling Feel Lower
Although painting an exposed ceiling maximizes headroom, a black basement ceiling can create the illusion of a lower ceiling. Black is visually heavier and can appear to lower the ceiling, but incorporating visual relief can help balance the space.
Preparing an Exposed Basement Ceiling for Painting
Empty the Basement
As with any painting project, clear or cover all furniture and fixtures in the basement. The fewer obstacles present, the easier it is to navigate the space while painting the ceiling.
Organize the Wiring
Ensure all wiring is intact and functioning properly before painting. Make any necessary repairs beforehand, and consult a professional electrician if needed. Once the wiring is in order, secure it to joists using cord staples for a clean, organized appearance.
Clean the Ceiling
Vacuum dirt and dust from the ceiling, paying close attention to all nooks and crannies to ensure a seamless paint job.
Protect Floors and Walls
Use plastic covers and painter's tape to protect floors and walls from paint. If painting the entire basement, start with the ceiling to avoid staining freshly painted walls and floors.
Apply Primer
To ensure even paint adhesion and coverage, apply a gray-tinted primer. Spray the primer evenly for the smoothest possible black ceiling finish.
Paint the Basement Ceiling
Have all necessary safety gear and painting tools ready for the job. Due to wiring, pipes, and the ceiling's various nooks and crannies, a paint sprayer is the most efficient method for achieving an even finish.
Black Basement Ceiling Inspiration
A black ceiling can be far from dark and dreary. Paired with the right colors, lighting, and fixtures, a black ceiling can beautifully unify your basement. Here are some ideas to highlight the beauty of a black basement ceiling:
Embrace Shades of Gray
Complement the dark aesthetic of a black basement ceiling by incorporating shades of gray. A blend of black, gray, and brown creates an elegant and sophisticated look. Proper lighting ensures that the dark colors don't feel oppressive.
Incorporate Color
Black serves as an ideal canvas for virtually any color. Balancing a black basement ceiling with contrasting white creates a versatile backdrop for any color scheme or piece to stand out. If you have an eclectic mix of furniture and accessories, a black ceiling and white walls can bring everything together cohesively.
Create Coziness
Take advantage of the natural visual weight a black basement ceiling offers and use it to create a cozy atmosphere. Comfortable seating, plush carpets, warm lighting, and inviting artwork all contribute to a welcoming basement retreat.
Illuminate the Space
Strategic lighting placement can transform any area, particularly against a black ceiling. The interplay between light and dark elements naturally complements each other. Use multiple layers of varied light sources to brighten the basement. Not only does proper lighting enhance an inherently dark space, but it also helps counteract any perception of a low-hanging ceiling.
Conclusion
In conclusion, a black basement ceiling is simple, stylish, and affordable. It also allows for creative interior designs. A black ceiling can make your basement a place you love.