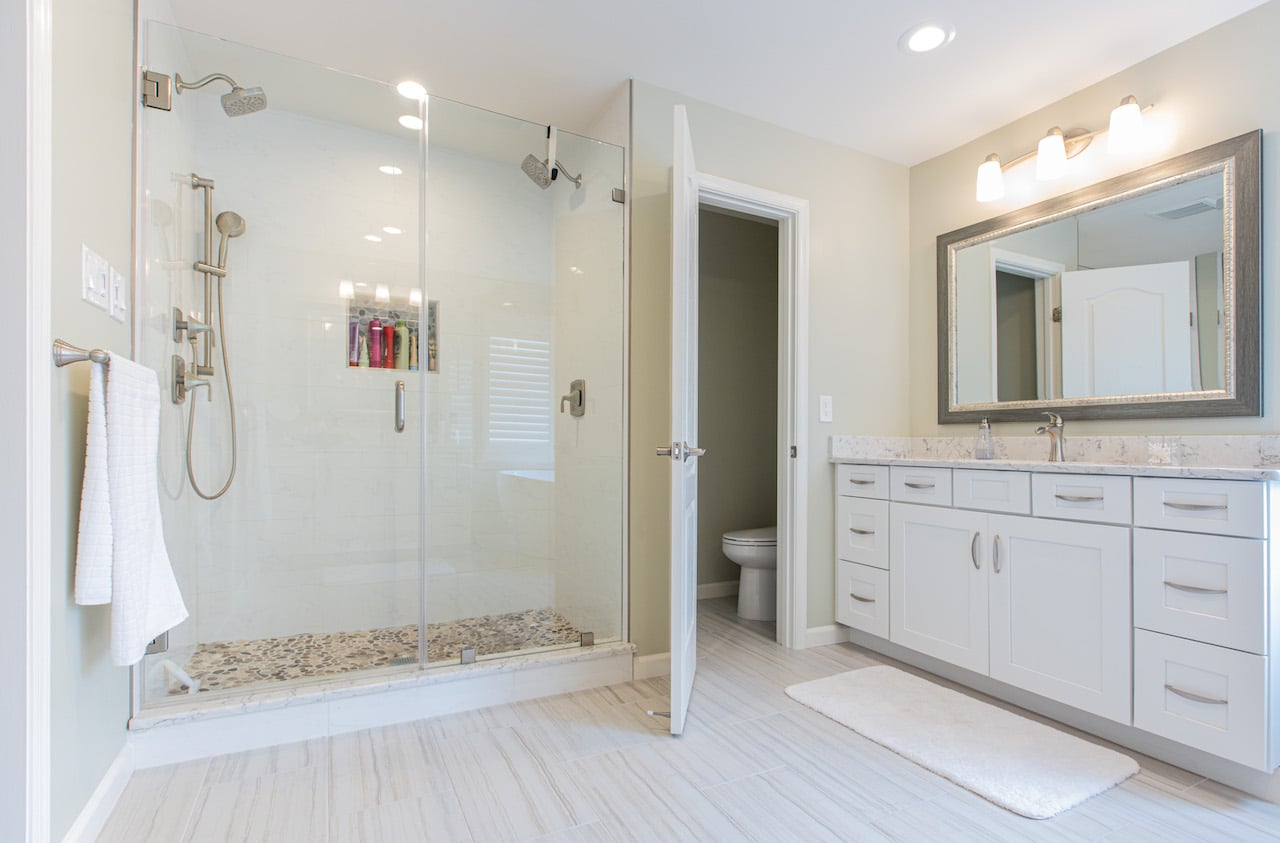 Bathroom Lighting Ideas to Implement During Your Remodel
Being one of the most private spaces in your home, the bathroom adds considerably to the aesthetics of your home. You need to choose and incorporate every element of your bathroom remodel process carefully. For instance, implementing innovative bathroom lighting ideas can take your bathroom's aesthetics to a whole new level.
Many people erroneously believe that selecting the lighting scheme for a bathroom is simply like any other routine bathroom remodeling task. However, nothing could be farther from the truth. The type of lighting that you install in your bathroom is extremely important. It is an integral part of the overall theme or design that you chose for your bathroom.
Apart from serving as a source of light, proper lighting also elevates the mood of the bathroom. It can quite literally transform an ordinary bathroom design into a splendid and luxurious one. In this guide, we have listed various beautiful bathroom lighting ideas that will help you make the most of your bathroom remodel.
Layered Lighting
Layered lighting is among the most beautiful bathroom lighting ideas you will ever come across. It is essentially a lighting system that follows the rules of bathroom lighting with three unique types of lights – accent, overall, and task. Accent lights are mostly decorative lights in the bathroom that could be in the form of profile lights, backlit mirrors, or pendant lights.
Overall lights are also known as recessed lights and are used to light up the entire room. Finally, the task lights are used to lighten up specific zones depending on their function. A notable feature of this system of bathroom lighting is that, as its name implies, is present in the form of layers – beginning with the ceiling lights and making its way down to the vanity space.
Highlighting Profiles Using Backlighting
Backlighting is one of the most charming bathroom lighting ideas out there. It produces a unique effect that can be summed up using just one word – "wow." It is a serene, graceful, but rather subtle effect that is best appreciated in backlit panels or around mirrors.
Backlighting does not have any direct effect on your bathroom's functionality by itself. However, it does add a charming touch of creativity and sophistication to the place. You could say that this arrangement serves as an accent piece for your bathroom. You should certainly try it out at least once during your bathroom remodel and observe the change for yourself.
Ambient Lighting to Set the Mood
Ambient lighting arrangements create a specific atmosphere within the confines of your bathroom. It is generally produced with the help of warm or yellow lights, which tend to be soft and tender by nature. It is undoubtedly one of the most enchanting bathroom lighting ideas if you're considering changing lighting for your renovation.
Pendant lights, in particular, can bring about this effect in a most elegant manner. You should try to choose a zone or corner to experiment with this sort of lighting. If used properly, it can produce a theatrical effect in your space.
Conserving Energy With LED Lights
LED lights are well-reputed for being energy-efficient and eco-friendly sources of illumination. They are widely considered to be very convenient and fuss-free bathroom lighting ideas. Apart from this, LED lights have considerable longevity as well. They can serve your space without getting damaged for years, barring accidents.
As an added bonus, your bathroom will have a much more contemporary and clean-lined look when you use LED lights. When used in combination with textured lighting and incandescent bulbs, LED lights can produce a genuinely royal effect in your bathroom remodel.
Using Recessed Lights for Focus Lighting
Recessed lights comprise of lights installed on the bathroom's false ceiling and facing downwards. When they spread downwards, they light up your entire bathroom in a magnificent manner.
If installed over mirrors that reflect light, recessed lights make your space appear even brighter. Your shower area needs to be particularly well-lit, especially if it features a tub or Jacuzzi.
You can try out various combinations of differently colored lights in this region as well. It offers a lot of scope for experimental bathroom lighting ideas.
Arranging Task Lighting for Zones
You can divide your bathroom layout into various zones, like the wet and dry zone while choosing bathroom lighting. Of these, the wet-dry zone is the most important distinction.
Upon closer inspection, you will see that you can divide your bathroom further into the bathing zone, the toilet zone, and the vanity mirror zone. A larger and more luxurious bathroom could feature a separate dressing zone as well.
As much as possible, you should try to provide a separate source of lighting to every one of these zones. Also, you are obviously not going to be using all these zones together at the same time.
Consequently, you should try to install different kinds of lights to illuminate each of them. Therefore, task lighting is basically concerned with apt lighting arrangements for the different zones in your bathroom.
It plays a vital role in your washbasin area, where you carry out daily activities like brushing your teeth, washing your face, and shaving. Further, it is one of the most unique bathroom lighting ideas out there.
Use Bright Lights with Dimmers
You need to carry out various daily activities in your bathroom, such as showering, shaving, and cleaning yourself up. For this purpose, your bathroom needs to be brightly lit.
However, bright lighting is not always the best option for your bathroom remodel either. For instance, it can feel quite intrusive if you are trying to relax in a hot bath after a hard day.
However, your bathroom will be barely usable at other times unless it has bright lights. So, how can one achieve a balance between these two contrasting scenarios? The answer comes in the form of dimmers.
Dimmers are an intrinsic part of most modern, bright lights. They can effectively alter the lighting levels of your bathroom in accordance with your mood.
Various lighting arrangements for bathrooms have their own unique pros and cons. Similarly, they can function differently when they are installed in different areas. It is something that both budding and experienced designers are working on during a bathroom remodel.