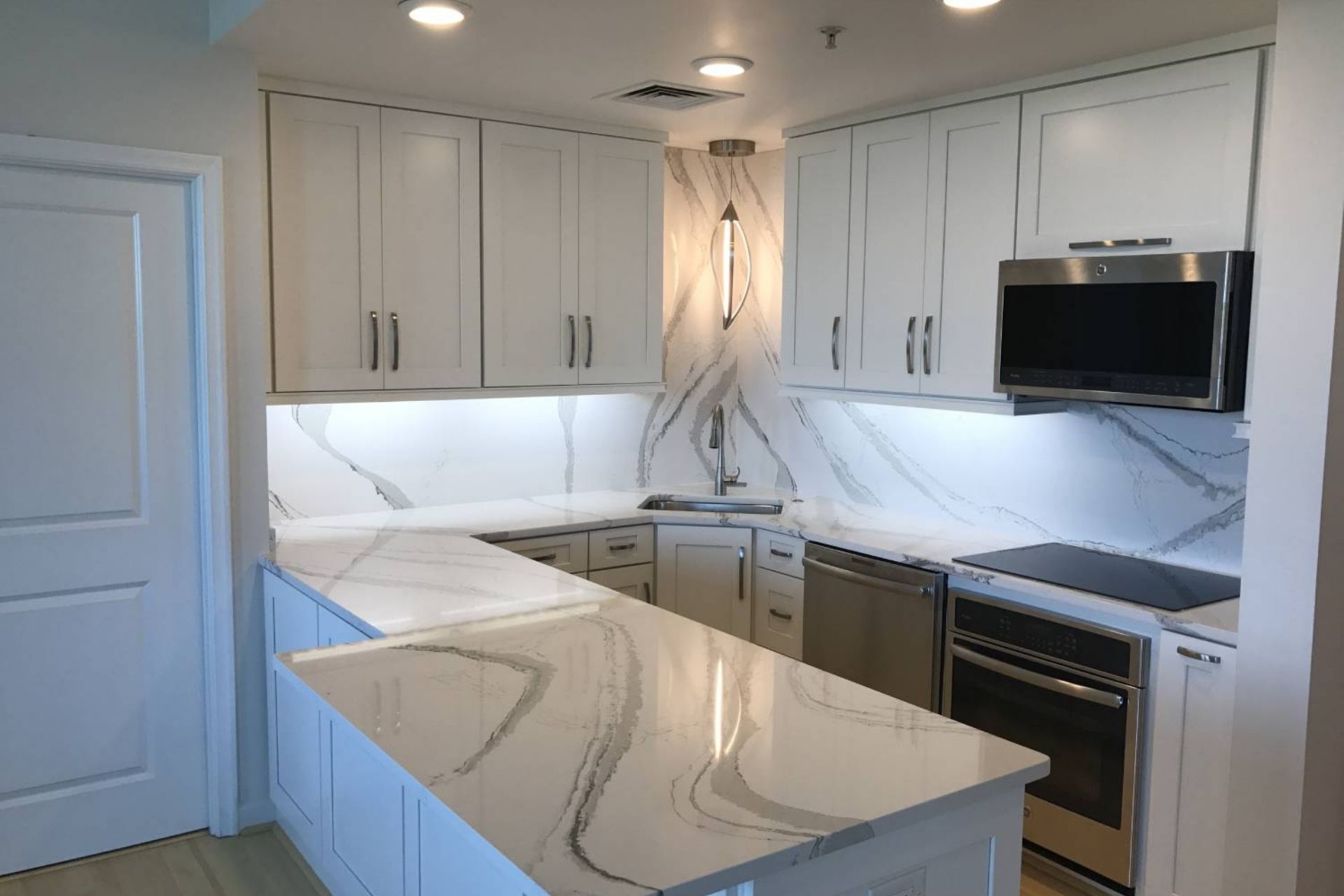 Small Kitchen Remodel Cost (and Other Factors to Consider)
A small kitchen remodel can be a tricky undertaking. Since you have little space to work with, you have to get creative, especially when it comes to the small kitchen remodel cost.
If you want a kitchen that is laid out conveniently and looks impeccable, you might decide that some remodeling is in order. However, with remodeling come the costs. Here's everything you must know to determine your small kitchen remodel costs. 
Understanding Small Kitchen Remodel Costs
A kitchen remodel will cost around $10,000 and more. However, with a bit of DIY and a focus on the small things, it's possible to achieve the look and feel of a brand new kitchen inexpensively. 
Similarly, a kitchen renovation using budget materials and fitting will cost $5000 – $12000. 
Set A Realistic Timeline
In order to plan your small kitchen remodel cost, you need a timeline to follow. Here's what you can expect with your kitchen remodel:
Designing: At Your Own Pace 

Cabinets: 1 – 3weeks

Demolish/ Prep work: 1 day

Plumbing, electrical, flooring: 4 days – 2weeks

Installing cabinets, lights, and appliances: 3 days – 2 weeks
Small Kitchen Remodel Cost Breakdown 
Not all aspects of your kitchen remodel will cost the same. Here is a small breakdown of what you can expect from different aspects of your kitchen remodel:
Cabinetry: $2500 – $4000

Benchtop: $3500+

Splashback: $600

Lights: $200 – $800

LED and pendant lights

Flooring: $3700

Painting: $400

Appliances: $1250 – $5500
Labor Costs
Labor forms a significant aspect of your kitchen remodel costs. Here's how much you can expect to pay for different services:
Builder/ General Contractor: $2550 – $4000

Electrician: $2450+

Plumber: $2870+
Where To Spend 
Cabinets
The place to splurge is on the functionality and installation. Cabinets are an important aspect of your kitchen. Even though they are the most expensive aspect of a kitchen remodel, they bring immense value to your space in terms of functionality and design.
Backsplash
You can splurge on deco pieces such as mosaic tiles for your backsplash. Remember to space them out in the kitchen remodel design — otherwise, you'll push up the budget. 
Countertop
The countertop is generally the focal point in a kitchen. You can spend more for it to be the highlight of your space. Countertops covered in gadgets and overflowing sinks are a big no-no.
Flooring
Consider large tiles for flooring, which will give your kitchen remodel a new look. It will also require fewer grout lines and cuts during installation. The maintenance will be far less than smaller tiles. 
Appliances
You have to choose your appliances before you even think about cabinets, countertops, and other features. If you skip this step, you'll end up with incorrect measurements and less budget to spend on other elements. 
Survival Tips 
Stick to your budget. 

Know your cost breakdown. 

Set aside 20% for unexpected expenses. 

Make a list of priorities. 

Know how you will finance your project. 

Where will you stay while remodeling? 

Add money to the budget for eating out. 

Make a spreadsheet and check-in often. 

Do some of the easy tasks to lower your costs. 

Avoid extra costs. Don't get tempted! 
Factors to Consider
Think About Resale 
Kitchen renovations return over 70% of the renovation cost, which is higher than any other place in the house. If you are moving out of your home in less than 5 years, think about the resale value of your home while deciding your small kitchen remodel cost.
Choose Neutral 
 Lighter walls not only allow for natural light to brighten your room but, it makes your space look bigger. It's also great for resale because it's super easy to paint over. It makes design choices much easier than in a dark color room. 
Refinish Your Cabinets
If you're replacing the doors and drawers, flat panels are popular because of their sleek, simplistic aesthetic. Glass fronts are great options for highlighting what you're storing. You can also give your cabinets and drawers some new hardware to make them pop!
Get Creative
Currently, stone slabs like granite and quartz are the most popular products on the market. It is durable, versatile, and it comes in a wide range of patterns and colors. 
It has a wide range of prices to match anyone's budget. Generally, a granite countertop costs around $40 – $250/ square foot. On the contrary, quartz is an engineered stone, so it costs around $60 – $300/ square foot. 
Choose the Right Appliances
Stainless steel appliances are the new norm. You can even expect it from entry-level buyers. Luckily, you can now find stainless steel designs in about every price range. 
Don't let your small kitchen limit your aspirations. Choosing the right kitchen appliances can make your tiny kitchen more efficient and right-on budget.
Keep the Work Triangle in Mind
The kitchen work triangle is a cliché. Yet, we can't deny how hassle-free the concept is around enhancing the workflow in a small kitchen. 
Streamline your appliances; combination washing machines and dryers and fridge/freezers can be a real space saver. 
Install Glass To Bounce Light
Furthermore, you can use mirrors and glass to create reflections and bounce light around. Ensure window coverings don't cut off natural light when they're open. 
Another way to make your small kitchen look bigger and save on small kitchen remodel cost is to replace your wooden cabinet doors with glass/ mirror ones. 
Storage Solutions 
You can store your seasonal and bigger kitchen appliances over the cabinets to free up valuable counter space. To avoid dust and clutter, use baskets that can fit in the room. Store your less frequently used cookware and transfer it over the cabinets. 
Brighten It Up
No matter which color scheme and theme you go with, your kitchen should get as much light as possible. Sufficient under-cabinet, accent, and pendant lighting, along with natural lighting, will make even a tiny kitchen feel spacious. 
Choose light-colored cabinets or paint them. An abundance of dark materials will automatically make a room seem smaller. 
Use cool, neutral tones to expand the space visually. Use different shades of the same color to create visual unity. 
Store On The Wall
Don't waste any usable wall space. Your kitchen countertop is a valuable prep area in your small kitchen. Installing floor-to-ceiling cabinets will increase your kitchen storage space while giving the illusion of height to the room.
Don't let vertical space go to waste. Draw the eye up with artwork, shelving, and tall furniture. You can invest in space-saving furniture like a fold-away table. It will give your kitchen maximum functionality without sacrificing floor space.