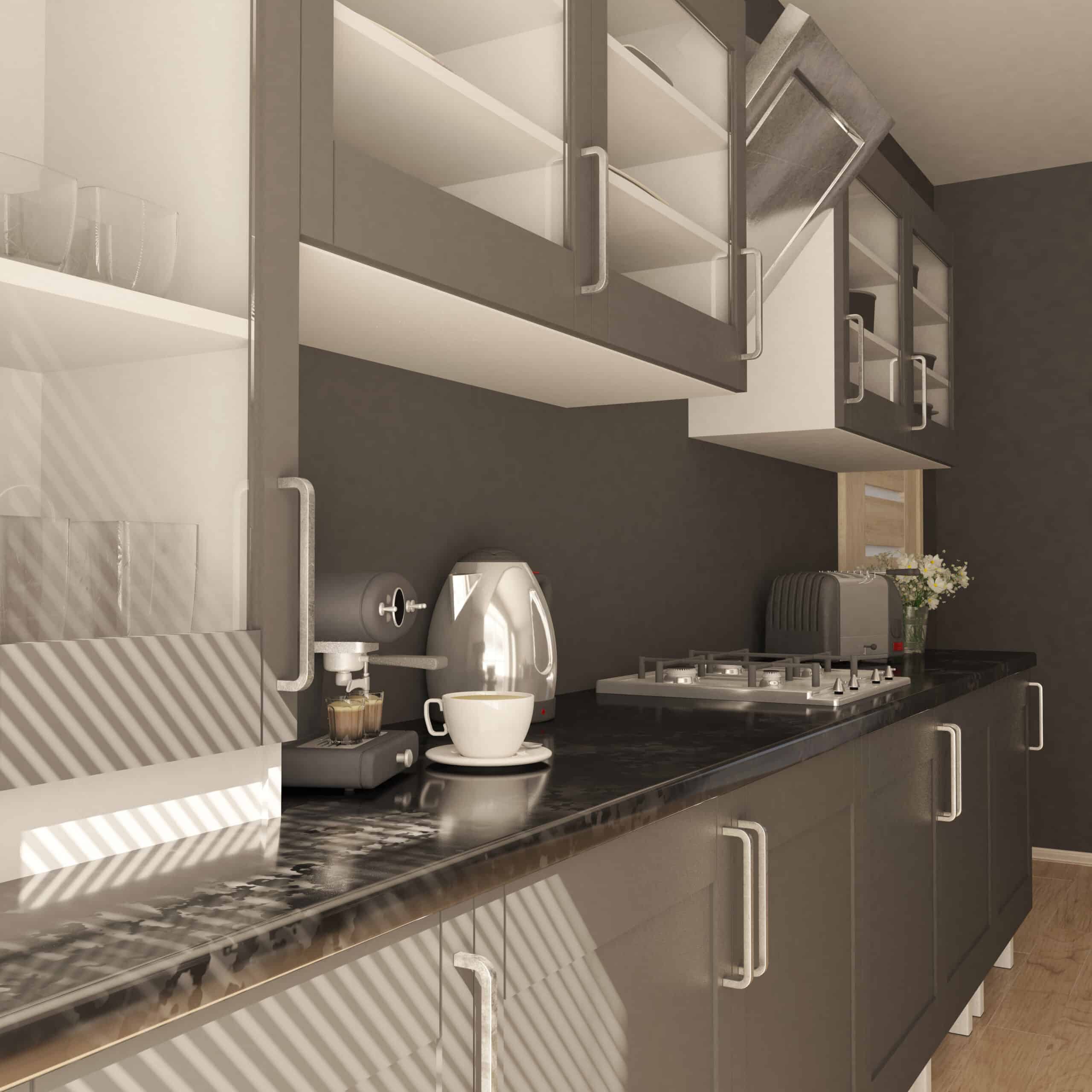 Light Gray Kitchen Cabinets: The Modern Trend in Kitchen Remodeling
The kitchen is evolving into a peaceful space, with light gray kitchen cabinets at the forefront. This modern, timeless selection merges simplicity with practicality, changing the norms of style and grace. Choosing light gray for your kitchen revamp can create a calm, modern area. Now, let's delve into the advantages and flexible combinations that light gray cabinets offer your home.
Benefits of Choosing Light Gray Kitchen Cabinets
Visual Appeal: Offers a sophisticated, modern aesthetic.

Versatility: Easily pairs with a plethora of hues and textures.

Neutral Base: Serves as a neutral canvas, encouraging creative freedom in decorating.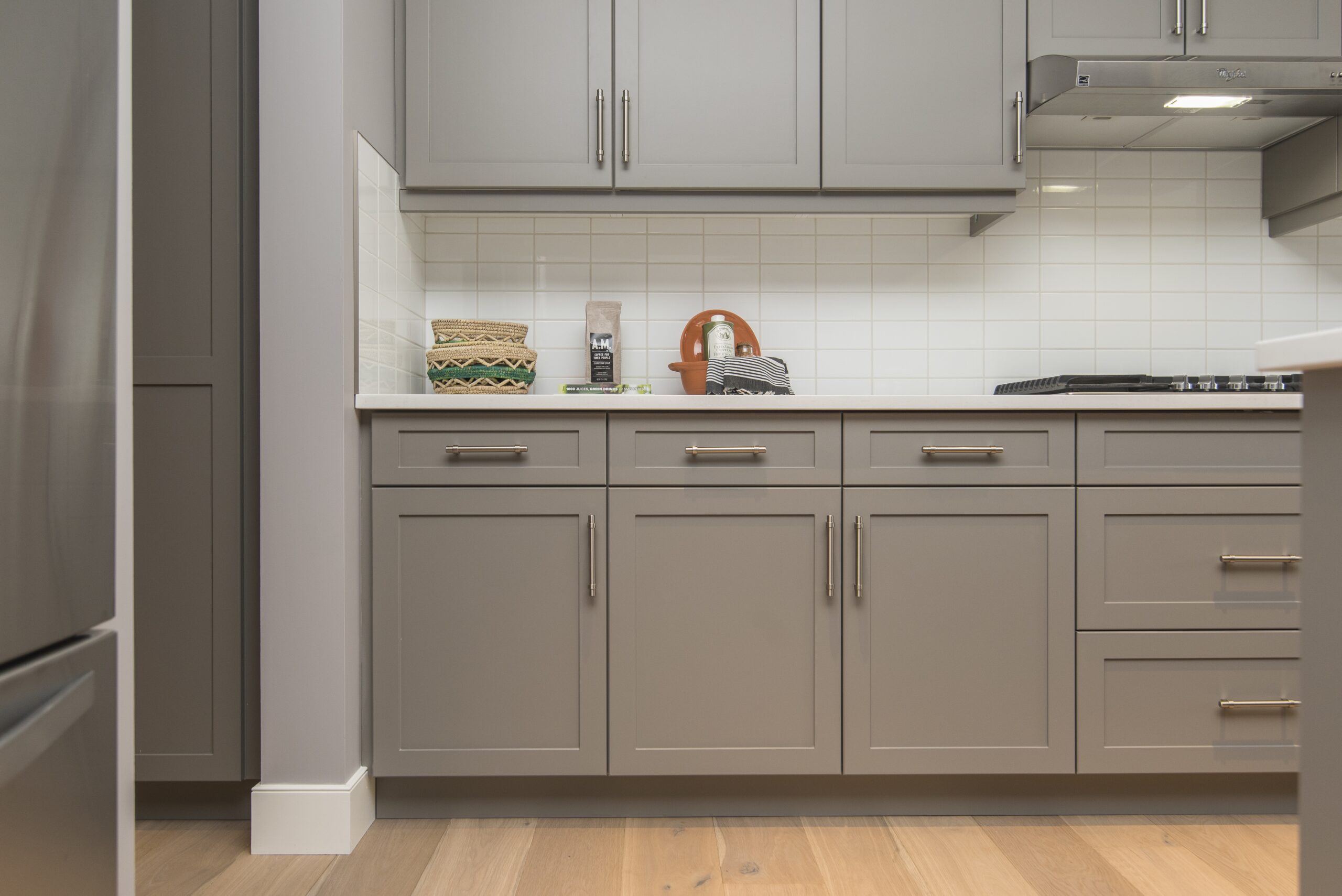 Light Gray Kitchen Cabinets as a Timeless Choice
Matching with Countertops
Choosing countertops to match light gray kitchen cabinets offers boundless options. You might go for a crisp, classic look with white quartz countertops, radiating purity and sophistication. If you favor some contrast, black granite countertops provide a striking balance, lending depth to your kitchen's look.
Marble countertops are another great choice, infusing luxury and uniqueness into your kitchen with their natural patterns. Furthermore, light gray cabinets accentuate the inherent beauty of marble patterns beautifully. Here are some top materials to pair with light gray cabinets:
White Quartz: Presents a clean, modern charm.
Black Granite: Gives a bold contrast, accentuating the cabinets well.
Marble: Brings a dash of luxury and natural elegance to your kitchen.
Backsplash and Wall Colors
Selecting the ideal backsplash and wall colors to match your light gray kitchen cabinets can be a thrilling part of your kitchen renovation journey. Consider a white, textured backsplash for a united yet subtly contrasting appearance. To inject a vibrant and energetic feel, adding touches of blue or green can bring a dynamic element to your kitchen.
Wall colors harmonizing well with light gray often tend to be gentle neutrals. Choices like beige, ivory, or even soft pink can establish a warm and welcoming environment. Here's a brief guide to complementary wall colors:
Beige: Gives a warm, neutral setting that enhances the cabinets.
Ivory: Forms a breezy, light setting, melding well with the gray hues.
Soft Pink: Adds a hint of warmth and elegance, offering a gentle contrast to the gray cabinets.
Moreover, you might try out wallpaper designs that feature gray tones, maybe with a splash of metallic highlights to bring a bit of glamour to your kitchen. Keep in mind the level of natural light your kitchen gets when choosing colors, as it can greatly influence the final ambiance and look.
Tips for Integrating Light Gray Kitchen Cabinets in Your Remodel 
Material Selection
Starting the journey of incorporating light gray kitchen cabinets into your kitchen revamp calls for a thoughtful choice of materials. The charm of light gray lies in its compatibility with a wide array of materials, enhancing both traditional and modern designs beautifully.
For a timeless appeal, you might choose wood with a light gray stain, preserving the natural grain while adding a contemporary color. On the other hand, laminates present a smooth, consistent appearance, boasting durability and affordability. If you're looking for a dash of luxury, consider glass-front cabinets. Paired with light gray hues, they cultivate an area that seems spacious and lavish. Here are some favored material options:
Wood: Brings a classic, warm feel with modern touches.
Laminate: An economical choice without sacrificing style.
Glass: Infuses elegance, offering a broad and appealing visual.
Hardware and Accessories
No kitchen remodeling project is complete without the selection of appropriate hardware and accessories. The hardware you choose can significantly influence the overall aesthetics of your light gray kitchen cabinets.
For a modern, sleek look, consider incorporating stainless steel handles and knobs, which add a shiny, contemporary element to the kitchen space. If you are aiming for a more rustic vibe, bronze or brass hardware can bring a vintage charm that pairs beautifully with the light gray hue. Furthermore, incorporating accessories like under-cabinet lighting can enhance the functionality while adding a touch of drama to your kitchen space. Here are some exemplary hardware options:
Stainless Steel: Exudes modernity and pairs seamlessly with light gray cabinets.

Bronze/Brass: Brings in a rustic charm, adding a vintage flair to your modern kitchen.

Under-Cabinet Lighting: Enhances functionality while elevating the aesthetic appeal.
Expert Advice
Interior design experts often highlight the versatile and timeless charm of light gray kitchen cabinets. Well-known designer, Alex Thompson, lauds light gray as a "neutral shade that provides a backdrop for creativity, enabling homeowners to blend textures and colors with ease." Additionally, kitchen renovation specialists indicate that light gray cabinets can enhance the kitchen's brightness and space perception, especially with the correct accessories and hardware.
For a successful kitchen makeover, focusing on small details like hardware selection and the mix of backsplash and countertop materials is key. Experts urge homeowners to try various textures and hues to discover the ideal mix that complements their personal taste and their home's architectural features.
Conclusion
In conclusion, it's clear that light gray kitchen cabinets are a modern, flexible choice for kitchen makeovers. They represent a harmonious mix of calm and style, promising to uplift your kitchen to a new level of elegance.
Choosing light gray cabinets is a step towards a design that's both modern and timeless. It ensures a kitchen that is welcoming and bright, yet thoroughly stylish. As you think about updating your kitchen, let the subtle charm of light gray cabinets guide you to a space that is contemporary and inviting.
FAQ Section
What countertops go well with light gray kitchen cabinets?
Countertops in white, black, or marble patterns harmonize well with light gray kitchen cabinets, offering a sleek and modern look to your kitchen.
How do I maintain the pristine condition of my light gray kitchen cabinets?
Regular cleaning with a mild detergent and avoiding the use of harsh chemicals can help in maintaining the condition of your light gray cabinets.
Can light gray kitchen cabinets suit small kitchens?
Yes, light gray kitchen cabinets can make small kitchens appear more spacious and brighter, thus being a wise choice for small kitchen spaces.