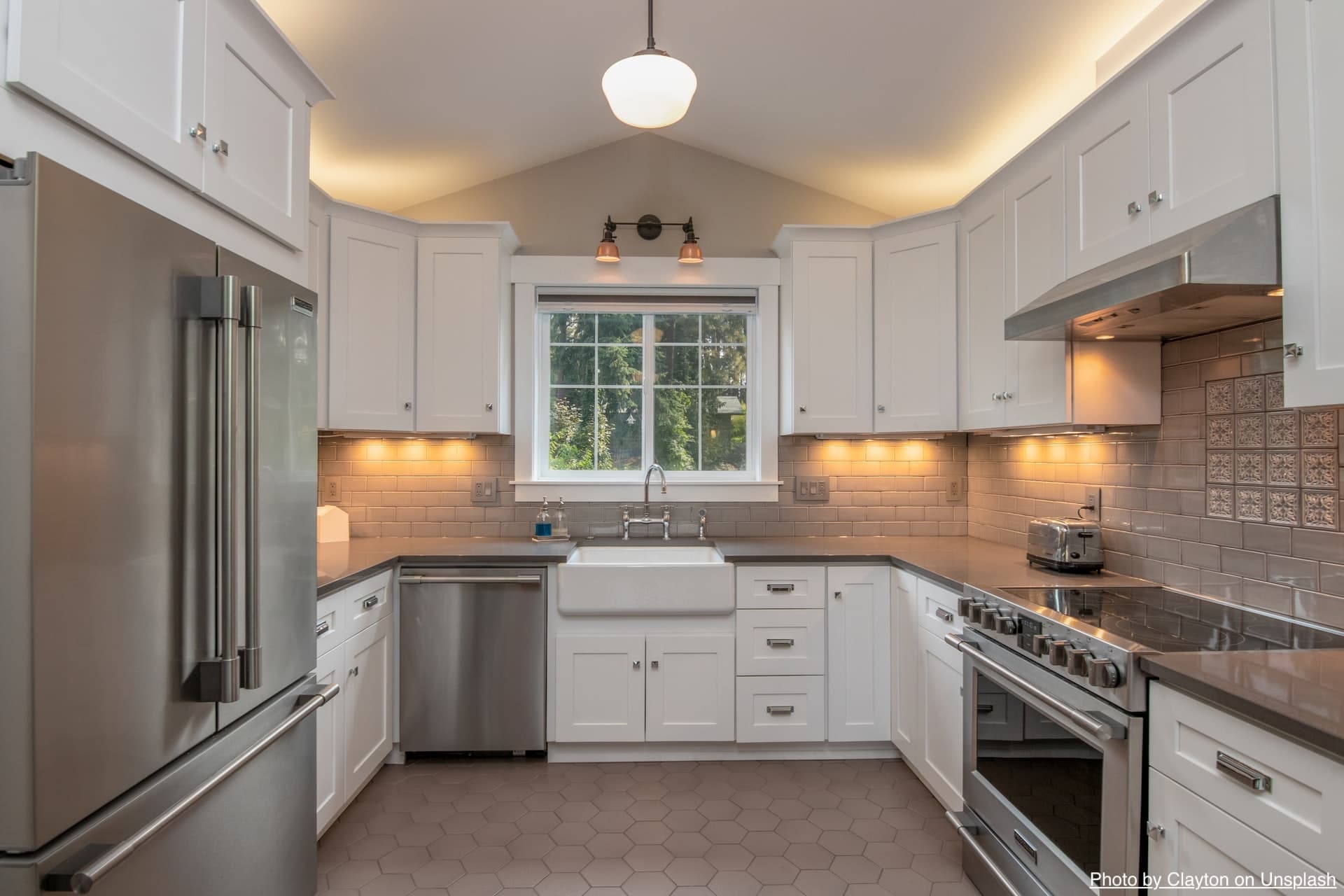 Kitchen Remodeling Design Ideas and Tips For a Seamless Upgrade
Trendy and elegant kitchens are now a modern-day necessity. A kitchen's design plays a vital role in setting the theme of the entire home. It can reflect your personality and style. Kitchen remodeling design ideas like using quartz for your kitchen countertop or using sustainable materials are picking up.
Similarly, open shelves, hydraulic shutters, built-in accents, slender pull-outs are all popular for different storage and aesthetic needs. From a carousel to pull-out magic corners, many types of kitchen remodeling design ideas are now available to enhance your kitchen. 
Breakfast units are now becoming part of the open kitchen layouts; the kitchen is no more a space to just cook. You can customize them according to your quick and casual needs. 
Here are the top kitchen remodeling design ideas you should know while getting yours done. 
Kitchen Cabinet Ideas
Increase the life of your kitchen cabinetry with soft-closed hinge work with a gentle push. They make for smooth running as you work your way around the kitchen. 
Placement of the dishwasher between the cabinets is key for a productive and efficient kitchen. You should place it in a way that is easy to access without blocking any walkways. 
The cabinets are usually more versatile and adapt to the homeowner's lifestyle. One kitchen remodeling design idea is to bring the upper cabinets to the ceiling to take advantage of the vertical space for storage.
It will make your kitchen appear larger and higher than it is. When you combine these upper cabinets with floor-to-ceiling cabinets, it can make a huge impact. 
Also, you can skip choosing kitchen cabinets altogether and have lower cabinets to create a luxurious look. At the top, you can opt for open-shelving for a fresh modern look.
Let's personalize your kitchen: open shelving and glass-door cabinets allow you to showcase your personality with displays of their unique and artistic kitchen pieces. Incorporate beauty and function by placing cookbooks, vases, plants, wooden pieces on your shelves. 
If someone doesn't like to have everything on display, textured glass cabinets are the solution for you. This way, you can add a superb layer of visual and personal texture to space. 
Kitchen Countertop Ideas
In 2021, we are going back to basics when it comes to kitchen countertops. High-contrasting marbles in dark colors are an elegant and timeless choice. 
Similarly, quartz and terrazzo are a safe option for your kitchen remodel. Now, you can try several combinations with these materials, and they all can be unique. Using engineered stone is practical as you don't have to keep grouting between the tiles to keep them clean. 
If you're someone who doesn't like making design decisions, make sure your countertop and backsplash are the same material. It will make the kitchen appear more seamless and airy. It will also create a more classic base for your kitchen; you can then lift it by adding some bold accessories or accents. 
One way to free your countertop is by installing an inbuilt microwave. It will give you optimum space while also adding a sleek look to the kitchen. 
Storage Ideas for Your Kitchen Remodeling Design
Different kitchen remodeling design ideas have different setups, and sometimes there is not enough storage space. Here finding even the smallest thing can be a challenge. 
Wicker baskets are perfect for storing root vegetables, kitchen towels, and other utilities. Pull-out the basket and access the necessary materials, making it super handy while working in the kitchen. You can organize everything by labeling these baskets, too.
Find a kitchen cover with a rolling shutter to store away everything from large utensils and appliances to daily kitchenware. You can also use tiered baskets to save up some significant counter space. You can choose to put your go-to snacks on the bottom and fruits on top for easy access. 
Drawers can get messy quite quickly, especially when you need a small teaspoon halfway through cooking your favorite meal. Try installing a cork board instead. Hang it on the door of your baking cabinet, and voilà, you have a place to store all your measuring spoons together. 
You can make your basic containers a bit more adorable, not just by designs but by adding matching labels on the front. Just create a cohesive style for your space and add some neutral colors. 
Make use of your cabinets' full potential by adding hooks and a hanging caddy to ensure you use every inch. Alternatively, snug a savvy vertical organizer right next to your fridge for easy access to snacks and treats. 
Want to make the most of the deepest corners of your kitchen? Use a lazy-susan. It can make finding beans and other canned foods a breeze. 
Lighting Ideas
Lighting plays a crucial role when you're remodeling your kitchen. When you are going for an elegant effect, hidden and cove lights work well. They're subtle and give a premium look to your kitchen. 
Natural fiber or wooden hanging lights give a light and airy look to the room. It will make your kitchen feel more open and free. If you have a farmhouse, rustic-style kitchen, you can choose to add some vintage lights. They're calm and soothing and create a warm and peaceful setting. 
You can also add a beautiful ambient glow and accent to your under-cabinets with LED strips. They highlight your space, are available in different colors, and are easy to install along with being energy-efficient. Apart from this, linear lighting will also increase the efficiency and functionality of your kitchen.
Furthermore, if you want to add a stylish and modern look to your kitchen, opt for pendant lights. They come in stunning designs and create an effect that is comforting and cozy. Make sure to light up your room with these latest kitchen remodeling design ideas. 
Backsplash Ideas
The kitchen backsplash is a fundamental part of your kitchen. On the other hand, it is a crucial element to determine space and style. It adds color, texture, and vibrancy to your kitchen. Usually, in contemporary designs, use the same material for your countertop for your backsplash. When you use the same material on both surfaces, it creates a clean, minimal, and elegant style. 
To achieve a more modern and seamless look, add a backsplash that contrasts with neutral color cabinets and minimal style. This way, your backsplash will be the focal point of your kitchen design. It is also important that you emphasize your backsplash using linear LED lights. 
On the other hand, there is another kitchen remodeling design idea that is casual yet trendy. You can use tiles in colors or shapes that break the kitchen's monotony. It is an excellent option to add color, texture, and style to your design. 
If you have a small kitchen, take your backsplash up to the ceiling to emphasize the vertical line. It is an interesting way to make your space appear larger than it is. 
Flooring Ideas
The right kind of flooring can make or break the visual and functional aspects of your kitchen. Let's look at a few options:
Wooden Flooring: Hardwood flooring allows you to enjoy a natural and warm look. It's easy-to-install, maintain, and is even environmentally friendly. It works best in a farmhouse or transitional-style kitchen design. 
Geometric Tiles: Intricately designed with a mix of decorative patterns and geometric designs, these beautiful tiles are at the top of kitchen remodeling design ideas. Typically, geometric tiles go brilliantly with the bathroom, kitchen, and even entryway floorings.
Marble Flooring: Although superior in pricing, marble flooring is a timeless and luxurious option. They come in a variety of colors, polishes and are sustainable too. One of the reasons homeowners use marble is due to its translucent quality and patina over time.
Porcelain Tiles: Often giving out very glamorous vibes when used in black and white, porcelain tiles work well with any theme. They're easy-to-install, durable, and come in various patterns, shapes, styles, and colors. 
This way, you have a trendy kitchen where you relish delicious food and a great design. We hope these kitchen remodeling design ideas will work as inspiration to give you a truly new-age kitchen.